October 02, 2005
Finally Finished Gloves
Krys
, I beat you on glove completion. Ha!
I finished Andrew's video game gloves today. Actually I finished the knitting last weekend, but ironed on the patched tonight, making it finally a completely finished object. Pictures!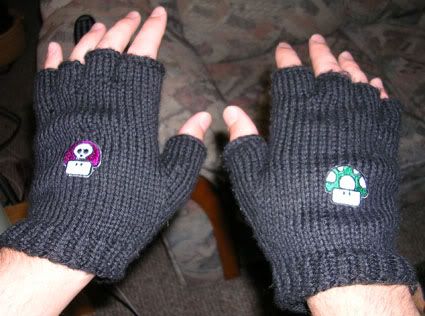 Holding hands out picture, mostly to see the patches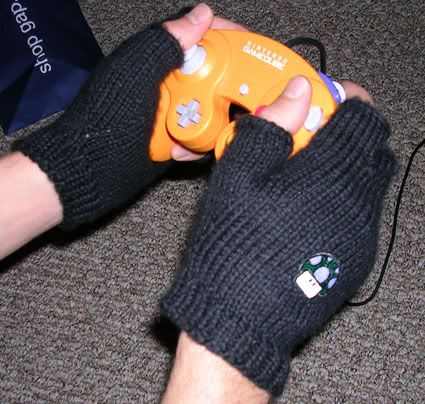 Action shot 1, with 1-up mushroom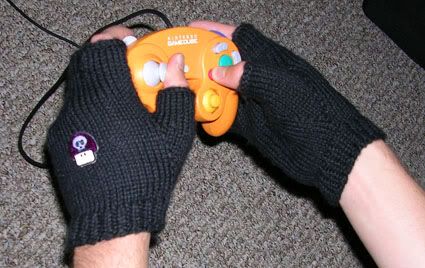 Action shot 2, with lose a life mushroom.
Stats:
Started Thanksgiving weekend 2004, with the right glove and hand and thumb of left glove completed that weekend.
Finished October 2, 2005.
Yarn - Debbie Bliss Cashmerino Aran in black
Needles - Brittany Birch US 5s for the ribbing and Clover 7s (and then Crystal Palace 7s, after I lost two of the Clovers) for the body.
Pattern - based off the progressive gloves article in the Winter '03 IK. I used a symmetrical thumb gusset and cast on more between the finger stitches than called for.
Comments - The yarn is super soft, but pills like crazy. The glove that was finished last year looks pretty beat up already. They should be ok though, since he'll mostly use them while typing and playing games, not super heavy use. If I did them over, I'd make the ribbing longer and maybe a bit tighter, and I'd knit the whole glove at the tighter gauge. I was pleased to see I'd written down enough of what I did to make the second glove match. Andrew really loves them, so that's the important part.
I'm also majorly bummed I couldn't make it up to Nancy's today to knit and spin. I'd been looking forward to it all week, but I just got too bogged down with school stuff. I think I've done enough for now though, so I'm going to knit a bit before bed.
Comments:
:-P But if you want to be technical about it, I
did
finish a pair before you did! Just not
the
pair.
I'd love to do the KAL, but I have deadlines for the pipeline projects... so I kind of have to start them now if I have any hope of finishing them in time.
Post a Comment
<< Home