October 31, 2005
DC
I'm having an amazing time in DC. Sunday night I waited in line 6 hours to pay my respects to Rosa Parks
This is the line 3 hours in. Apparently over 30,000 people filed past Sunday evening and Monday morning. I feel lucky to have been in town to pay my respects and also see the first woman ever to be laid at state in the Rotunda. It was a very powerful experience. There was a huge range of people there, from babies to couples in their 80s. The mood was really wonderful - I've never seen that many people behave in such an orderly fashion.
The meeting with Justice Kennedy was amazing as well. I'll be posting about that in my personal journal, along with my impressions about the court. I'll leave you all with a parting shot that explains why I could never live on the East Coast.
October 27, 2005
In honor of Halloween
This is my favorite Halloween costume ever and is also one of my favorite pictures of me and Ariel.
I'm Rainbow Brite, she's Twink. This picture is from 1986, so I was almost 5 and she was 2. Mom made the costumes, and looking at the picture now I'm remembering all the little details. Ariel has a star sprinkles pouch. All the rainbow rings on my costume are individually padded. So impressive!
Here's York at the stage I've left it. Stupid Zipper. I'll tackle it another day.
I also did a gauge swatch for Rogue. Here comes the most interesting picture evar!
I swatched with 3 needle sizes, 8s, 7s, and 6s. I got 4 st/in with the 8s, 4.25 with the 7s, and 4.75 with the 6s. None are exactly on with the 4.5 required in the pattern, so I think I'll go with the 7s and knit the smaller of the two sizes I've been waffling between.
Last, but not least, my new hair color and cut.
I got meme'd
Long time no post. I was trying to finish up York before posting, but we're not on speaking terms right now. There are zipper issues, to the point where I may ask my mom to finish it for me. I'm very happy with the rest of my finishing, however. I should have some pictures in a few days, of York, my new haircolor, and a couple other projects.
On to the meme. I was tagged by
Bowerbird Knits
.
What's your all time favorite yarn to knit with?
Tough call. As far as sock yarns go, Lorna's Laces all the way. I think Jagerspun Zephyr might be my favorite yarn, I'm really enjoying working with it on Peacock Feathers. In general, my preferences are for merino or merino/silk blends, but I occasionally like a more rustic yarn.
Your favorite needles?
Addi Turbo. I like Brittany Birch 5" double points for socks, but for just about everything else, it's Addis.
Worst thing you ever knit?
Fun Fur Bucket Hat. Really. It was bad. Sadly, I have no pictures, but imagine navy Wool-Ease double stranded with a multi-blue Fun Fur knit up as the Chicknits bucket hat. Add in the fact that I was still twisting my purl stitches and just eww. It was probably my 3rd or 4th project.
Your favorite knit pattern?
I think Fiber Trends Flower Basket Shawl. I really had a great time knitting that shawl.
Most valuable knitting technique?
Either Norwegian Purling or knitting backwards. I use both of these techniques all the time.
Best knit book or magazine?
My favorite magazine is Interweave Knits. I have a ton of knitting books, as I have a bit of a book purchasing problem. The one I use the most is probably the Knitter's Book of Finishing Techniques. (If you're on livejournal, you should join the
knitting_review
community and enter for a chance to win this book.)
Your Favorite Knit along?
The knit along is the kiss of death for a project over here. I think the only KAL I've ever finished is the original Sockapalooza.
Your favorite knit blogs?
I have 80 blogs on my bloglines list currently, but I always smile when I see a post from the Yarn Harlot.
Your favorite knitwear designer?
Probably Nancy Bush. I loves me some pretty socks.
Item you wear the most?
Probably socks, and after that, my Big Kureyon hat. It's a super simple hat, but it keeps my head warm when it rains.
Tag Time
Natalie
, you're up. If anyone else wants to play, please do.
October 16, 2005
Sweater coming soon!
I just finished seaming York! All that's left is sewing in the zipper. I looked back in my email and old blog, and it looks like I started this sweater about a year ago and hadn't touched it since last November. This is definitely the type of sweater I chose to make for the finished object, rather than the process. It will replace a dark red ribbed sweater from the Gap that fell apart last year. My WIP drawer is getting empty! The only sweater type WIP I have left is Veste Everest from the most recent IK. Maybe I'll pick that one back up next.

Oh, I ordered the yarn for Rogue, Hardy. I'm on a big green kick lately and will cast on for Rogue as soon as we hit November.

October 13, 2005
Yarn color for Rogue?
I'm about ready to buy yarn for Rogue - Rowanspun Aran. All that's left is to pick out the color.
I'm leaning towards either Gables, Autumn, or Hardy
. Any suggestions? I'm already working on a sweater in a color very similar to Gables, so I don't know if I should try and broaden my color horizons. Atlantic is pretty too. Midnight I think is too dark, and I'm not a fan of Caviar.
In other news, I started the sleeve caps for York. Only about 30 rows per sleeve to go! Maybe I'll get it sewn together this weekend, after my midterm tomorrow. No more knitting today, time to hunker down with Character Evidence.
October 12, 2005
WIP Wednesdays, Week 2
The WIP along is off an running now. I've finished 3 long abandoned projects so far, and hope to finish up at least one more before the month is done. I also finished another single sock, now it's time to start on some sock mates.
Katie
has posted the status of her WIPs, and looks like she's making good progress. She also has a picture of some really pretty Rowanspun Aran that I've been considering buying for Rogue. I love that ebay seller.
Krys
has made a lot of progress on her Eris sweater. It's looking really great, go take a look!
October 09, 2005
I'm a FO machine
Finished another languishing WIP last night during the Padres game. This is a version of
Cornet
, modified to use Lambs Pride Bulky. I did a plain twisted cable, because I felt the braided cable would be too wide (and I would have run out of yarn - I've only got about 6 yards left) and knit the cabled band until it was the right length to go around my head, grafted the band shut, picked up somewhere between 60 and 70 stitches and knit a basic hat up.
I was doing a self portrait and Andrew snuck in, so now he gets to be on the blog.
Today I've mostly been studying Evidence with baseball breaks. I did manage to knit a few rounds on my gloves though, and finally got past the ribbing and am about to decide what kind of thumb to use. Still haven't finished chart 4 of Peacock, but I'm getting close.
I bought some under the sofa bins at Ikea yesterday that I'm slowly putting my stash in. One bin is for WIPs and UFOs, the other two will probably be for wool and sock yarn. I'll leave the cotton in a box in the closet, because I don't really do much with it. We also bought some pretty jazz themed prints from Ikea. I know they don't count as "art", but they look nice in our dining room.
October 07, 2005
Another FO!
Leaha's mini-clap was finished and blocked tonight! Pictures
And a detail shot
Stats:
Pattern:
Clapotis
from knitty.com.
Yarn: Schaefer Yarns Anne, used about half the hank.
Needles: 40" US5 Addi Turbos
Modifications: I only did 3 repeats of the increase section, and repeated the straight section until the scarf was 6 feet long. I lightly blocked the scarf by soaking it in wool wash and spreading it out gently on the carpet.
This was pretty fun to knit once it "clicked", which wasn't until I was almost halfway through. I can't imagine knitting a full sized one though, I'd probably poke my eyes out. I'm really happy with how it turned out, and hopefully Leaha will really like it. I have almost 60g of yarn left, so there will be a scarf for me in the future (in a completely different pattern).
I also made some decent progress on Peacock and may get through chart 4 this weekend. I'm excited to get past chart 5 as 3, 4, and 5 are pretty much the same chart.
October 05, 2005
WIP Wednesdays, Week 1
I'll be updating the WIP-along on Wednesdays. So far, I'm making good on my goal of only working on WIPs. I finished up Andrew's gloves and have made a lot of progress on Leaha's mini-clap. Hopefully I'll have pictures of a finished mini-clap by the end of the week, as I only have 5 or 6 straight repeats to go. Once I finish the mini-clap I'll cast on for the second sock exchange sock, to make sure that gets done by the end of the month.
How's everyone else doing?
Krys
has set her goals for the month. Very ambitious! If anyone can pull it off, I'm sure she can.
Tish
has a list of wintergifts she wants to finish this year.
If anyone else wants to join us, drop me an email (link in the sidebar). Just to clarify, you don't have to only work on WIPs, just pledge to make substantial progress on something already on the needles. I'm sticking to only WIPs because I'm a compulsive starter. I really want to start something new, but I'm holding out. We'll see if I make it the whole month.
October 02, 2005
Finally Finished Gloves
Krys
, I beat you on glove completion. Ha!
I finished Andrew's video game gloves today. Actually I finished the knitting last weekend, but ironed on the patched tonight, making it finally a completely finished object. Pictures!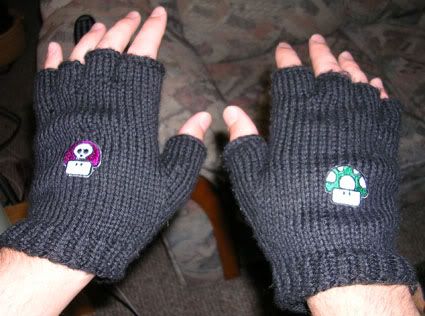 Holding hands out picture, mostly to see the patches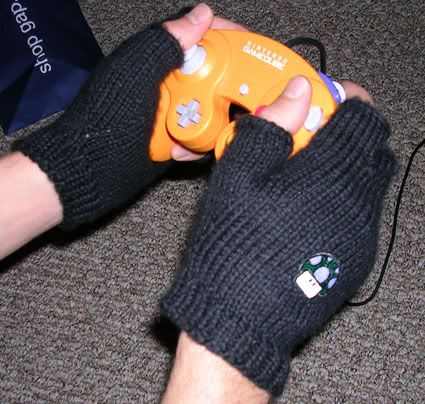 Action shot 1, with 1-up mushroom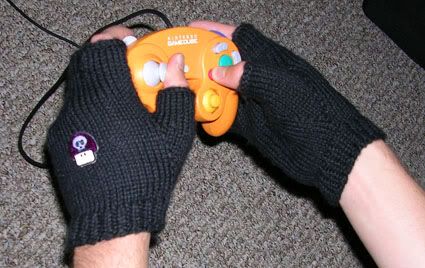 Action shot 2, with lose a life mushroom.
Stats:
Started Thanksgiving weekend 2004, with the right glove and hand and thumb of left glove completed that weekend.
Finished October 2, 2005.
Yarn - Debbie Bliss Cashmerino Aran in black
Needles - Brittany Birch US 5s for the ribbing and Clover 7s (and then Crystal Palace 7s, after I lost two of the Clovers) for the body.
Pattern - based off the progressive gloves article in the Winter '03 IK. I used a symmetrical thumb gusset and cast on more between the finger stitches than called for.
Comments - The yarn is super soft, but pills like crazy. The glove that was finished last year looks pretty beat up already. They should be ok though, since he'll mostly use them while typing and playing games, not super heavy use. If I did them over, I'd make the ribbing longer and maybe a bit tighter, and I'd knit the whole glove at the tighter gauge. I was pleased to see I'd written down enough of what I did to make the second glove match. Andrew really loves them, so that's the important part.
I'm also majorly bummed I couldn't make it up to Nancy's today to knit and spin. I'd been looking forward to it all week, but I just got too bogged down with school stuff. I think I've done enough for now though, so I'm going to knit a bit before bed.
October 01, 2005
October Goals and new KAL
September roundup
1. Finish school work before knitting at night. - DONE
2. Put down knitting long enough to do running program three nights a week. - Only one to two running nights each week.
3. Finish Dad's clogs. - DONE
4. Do at least one repeat on Madil. - not done
5. Finish Chart 4 of Peacock. - not done
6. Cast on for advanced_knit sock exchange. - DONE
7. Keep stash the same or smaller, and make a spreadsheet or something so I know what I actually have. - half done. I didn't buy any new yarn, but I didn't catalog what I have.

New Goals
1. Stick with my WIP Along (button in the sidebar if anyone wants to join me).
2. Not cast on for anything new.
3. Finish sock exchange socks.

I'm loosening up my goals this month. With all the school stuff I'm not getting much knitting done, so I'm just going to try working on what I have going already. The only hard and fast rule for me is not to cast on anything new. I didn't include the usual "don't buy yarn" goal because I have one purchase I think I'm going to make with my knitty proceeds.

The WIPs I'm going to be concentrating on are the sock_exchange socks, River, and Peacock Feathers. I also have a few small WIPs that will hopefully get finished.