September 03, 2005
SP5 Wrap-up
I received my final package from my secret pal today and found out her identity. Bridget of
knit cetera
has been sending me all those nice presents. Her last package was equally lovely.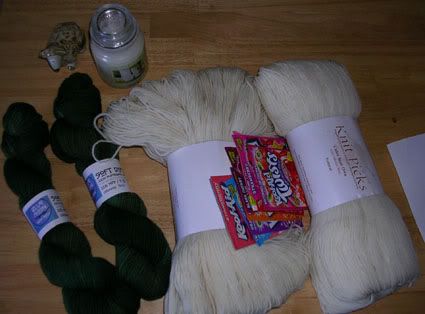 That's Blue Moon Merino sock yarn, Knitpicks dye your own sock yarn, Kool-aid for dying the knitpicks, a linen scented candle (love the smell), and a little sheep. The sheep reminds me of a Wallace and Gromet sheep. There was also a container of real Maple Syrup that didn't make it to the picture. Mmm, pancake breakfast. It appears my lifelong distaste for maple syrup was only for that fake stuff stores try to pass off for the real thing. The real stuff is quite tastey, and I didn't even mind the stickiness.
I had to take a close up of the sock yarn, because it's really such a wonderful green. The varrigation is really subtile, so I think these will make a great pair of patterned socks, either Retro Ribs, Go With the Flow, or something out of Knitting on the Road.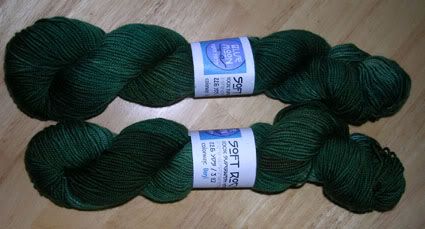 The person I was spoiling was Shetha, who's blog has been down so I can't link you to her. I'll come back and edit this when it's back up.
New discovery of the weekend - I'm allergic to oven cleaner. The people who lived in this apartment before us burned something onto the bottom of our oven that makes the smoke alarm go off every time we use it. Since we were going to have the oven on with guests over today, we finally got around to cleaning it. I was in the livingroom at the time and took one breath of the fumes coming from the kitchen and immediately started having trouble breathing. Andrew hustled me out the front door pretty quick though, so it didn't turn into a bigger problem. Now I never have to clean the oven! If only I could develop an allergy to dishes...