September 13, 2005
Sock update - now with sleeves
I'm just about through the heel of the first sock for my sock exchange.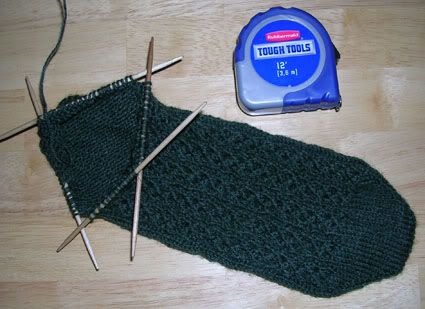 The pictures on the dark side, I have late classes on Tuesdays, so no good light left by the time I get home. The heel isn't complete because I got a ride home from school. (no complaints here, any time I don't have to take the bus is fine by me) I'll probably finish this sock middle of next week. As long as I keep up this pace I'll have no problem completing them by October 31st.
I also worked on my York sleeves a bit last night. I've still got 5 rows to the sleeve cap shaping, but I'm really enjoying working with the wool/alpaca blend.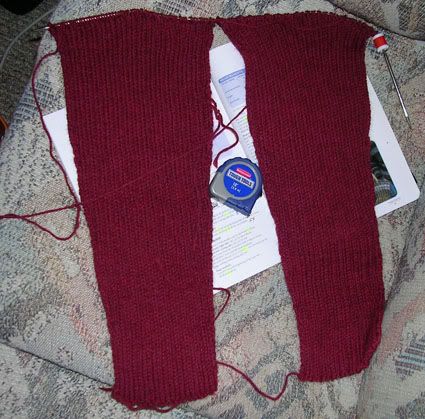 I included the same tape measure in both pictures for scale. While the sleeves are as long as the pattern calls for, my monkey arms need extra long sleeves.
Peacock is a little farther along after the weekend, but no new picture to show. I have four more rows of Chart 3, and I plan on taking a picture after completing that chart. I also completed the first repeat of River and weighed the remaining ball of yarn (46g). I'll be able to make a nice long scarf with just 50g of laceweight alpaca, yay!
I gave the felted clogs I just finished a test drive this morning, and they were so nice and warm I want a pair for myself. I'd like a different color though. Does anyone have some Cascade 220 (or other worsted weight feltable wool) they'd like to trade for some of the green Quatro? My size requires three hanks of 220 (600g), and I can trade an equal amount of the green. I'd love blues or maybe purple.