September 03, 2005
Peacock progress
I finished chart 2 of peacock on the drive up to Anaheim last night. It was extremely poor car knitting, as I had to look down too much and got a little nauseated. Here it is 2 rows into chart 3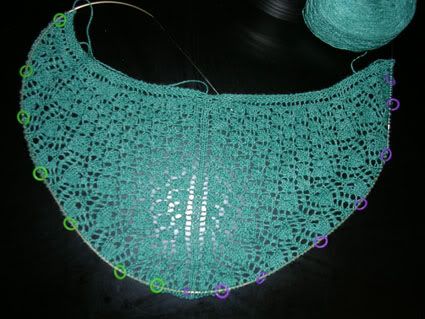 The rows are getting really long now, with the purl rows taking forever. I'm really enjoying watching the pattern emerge and I think it's going to turn out really great.
I also got my final package from my secret pal today. Once again it was great, and I'm waiting for some daylight to try and get an accurate picture of the great sock yarn she sent. Tomorrow I'll post pictures and details of who I gave to and received from.
We're having a Labor Day BBQ tomorrow. It was supposed to be on Sunday, but now Andrew has to leave for Sweden Sunday morning. We're a bit peeved, as he just found out about this business trip today - much too short of notice for out of the country travel in my opinion. He'll be gone Sun-Thurs doing some coding. Anyone planning on hitting up the Whistlestop on Sunday?