September 10, 2005
One Step Forward, Two Steps Back aka One FO, Two new WIPs
The felted clogs for my step-dad are done! You can see pre-felting pictures
here
. We wear the same sized shoes and they fit perfectly.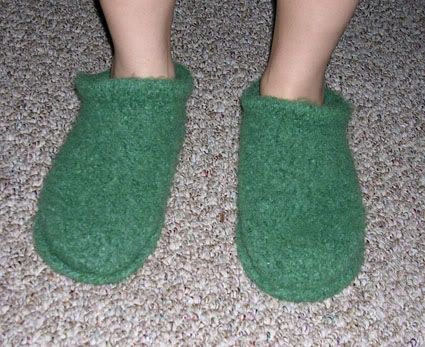 and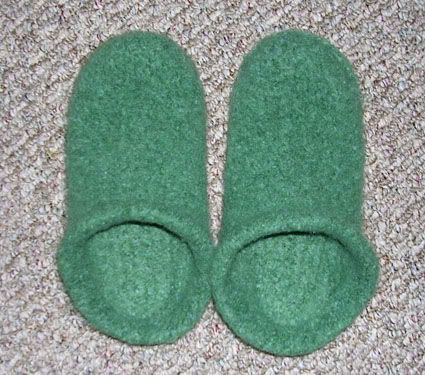 It took three trips through the hot washer (at a cost of $2.25) to get them to felt up to the right size. They are really think and have zero stitch definition. Now all that's left is to buy some fabric paint or shoe goo to dot on the bottom. My parents have hardwood floors and I don't want to be responsible for a slip and fall.
The pattern is Felted Clogs, from Fiber Trend. It was an extremely neat and well written pattern, but never have I counted so much for such a tiny object. I used 3 skeins of Cascade 220 Quatro. This is also the item that I learned to knit right handed for. The pattern has you short row across the top, which ment a lot of turning. Now I can knit back and forth. Goal for this weekend is to learn to purl right handed, so I can knit back across Peacock with the garter border.
I've completed one x-mas gift now. In response to Leslie's question, the feather and fan socks for my mom are on hold right now. I'll work on the second one closer to the holiday. I'm debating making another pair of these clogs for one of my brothers. He has much larger feet, so we'll see.
Now for the new projects. I finally received my Rowan 38 yesterday, and promptly cast on for the River Stole for the knit a long that started last week. I finished the set up rows and then weighed the remaining ball (48g) to make sure I leave enough for the finishing rows at the end.

This is a bad picture, but it's the best I could get with the cloud cover this morning. I'm using much smaller needles than called for in the pattern; US5s instead of US10.5s. I'm planning on using it more as a winter scarf than as a shawl, so it will work better narrower. Overall, I'm kind of pleasantly surprised with Rowan 38. I'd heard so many bad things about it, that I was pleased to see a couple things I'd like to knit inside.
I also cast on for Jake's Firefly hat last night. The Jon brought the yarn over when he and Kristin came over for beer and video games. I'm using the pattern
here
with slight modifications for Jake's giant head.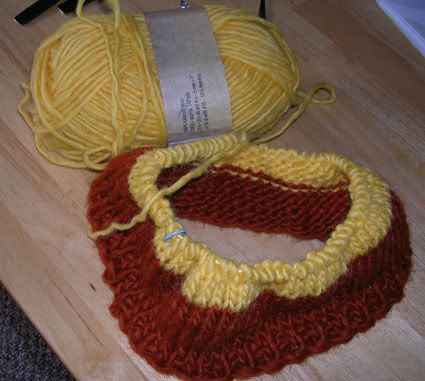 I'm a little disappointed with the shade of orange, a little too brown, but it looks more orange with the red thrown in there too, so it should turn out ok.
One last thing, which is more of a housekeeping issue. Blogger makes it kind of difficult to reply to comments. They show up in my email, but I can't email back, for example. The way I see it, I have a few options; do nothing with comments (what I tend to do now), reply in the comments (which I think is silly, because who comes back to read the comments again after commenting), go to the blog of the commenter and reply there (what I try to do), or answer questions in my next post (I did this today). I really do make an effort to visit the blogs of those who comment here. Just wanted everyone to know I appriciate your comments even if I don't reply.
Comments:
I have had this pattern in my 'to do' pile, now after seeing yours you have inspired me to make them. Only problem is we are heading into summer and I don't think we will be needing them for a while so they may just have to wait until next year!!
By the way I absolutely love your sock pattern over at Knitty, I am going to give it a go, I have only ever knitted from the cuff down so this will be something new for me also.
Post a Comment
<< Home