September 08, 2005
More socks!
First off, hi to all the folks stopping by via knitty. I feel like I need to be more interesting with the dramatic increase in blog traffic.
I'm 4.5" into the foot of the sock exchange sock, which has been my bus knitting this week.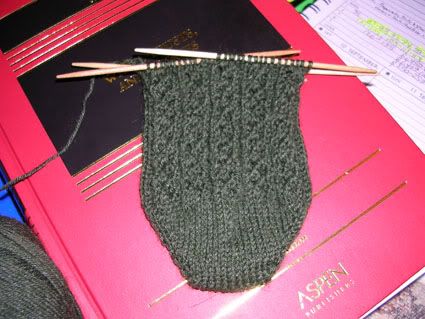 The patternis Go With the Flow from Summer '04 IK, but altered to be toe up. I worked my first figure 8 toe, and it was great fun. I haven't figured out how calf increases will work into this pattern; I'll burn that bridge when I come to it, as dad would say.
Peacock is kind of on hold as the rows are taking so long right now - almost an hour to knit the pattern across and purl back - mainly because I purl so slowly. I think it's now weekend knitting. The clogs need one last trip through the wash, which should happen tomorrow.
In non-knitting related news, Andrew is back from Sweden. It's good to have him home.
Comments:
Hi Knitting Blogs Neighbor! We're even sorta neighbors in real life, I'm in Orange, and moving to Corona :) Love the socks, I might have to dig that issue out after I unpack.
found your blog via knitty and looked through some past entires and found your mothers pink feather and fan socks. LOVE THEM and was wondering if you got any further or frogged them or what. I must have a pair for myself now. I will be stopping by a lot more often, you talk a lot about my favorite thing socks!!
Post a Comment
<< Home