September 24, 2005
Long time no post
School has been taking up most of my time lately, so there hasn't been much knitting around here. I did finish the first sock to be swapped. I brightened the picture a bit to show the pattern off better - in real life it's a deeper green.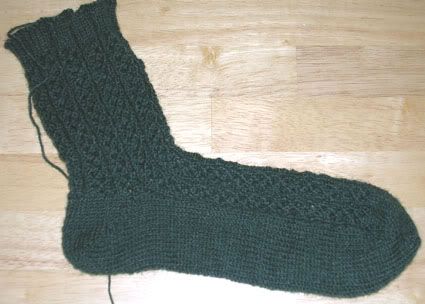 Last night in a fit of annoyance, I ripped out River, and started it over in stockinette stitch, with a garter edging. I just don't really care for garter lace. Here's how it looks right now, with the set up rows and about half a repeat completed. I also plan on switching decreases when the YOs slant the other way, think that will look quite neat.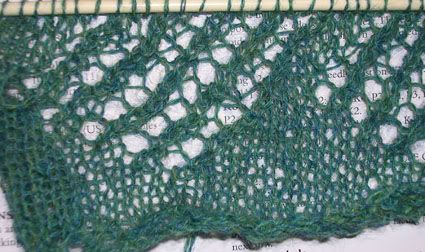 I'm also thinking of declaring October a WIP month and focusing on finishing some of my many WIPs without starting anything new. If anyone is interested in joining me, we could make a KAL out of it. I'm going to take a long hard look at my WIP pile and make decisions about either ripping or finishing each. I think I might rip my Ribby Cardi - I just don't think it's going to fit well - and reclaim the yarn for Samus. If so, I'll probably order a couple balls of the same Highland Wool in a complementary color to do the i-cord edging in.
Tomorrow
Spaaz
is coming over to loan me a spinning wheel and give me my first wheel lesson! I'm so excited!
Edit: I also just put a mail to link in my sidebar. If you have a question or comment you specifically want a response to, please email me there, since the comments are more difficult to respond to.
Comments:
i'll join you on the finish-WIPs drive. i have half a shrug, half a scarf and half a sweater on the needles. and i'm swatching up for revolution!
Post a Comment
<< Home