September 16, 2005
Chart 3 Done!
According to the Shawl Percentage Spreadsheet, I'm 19.7% complete - that doesn't seem very far.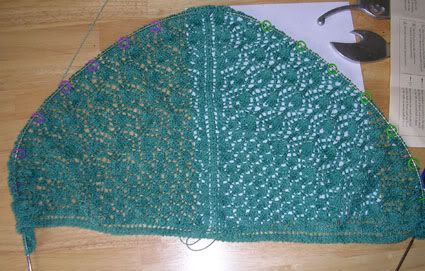 Tonight we're eating in and watching the A's/Sox game. Go Oakland! I'll probably knit the green socks, since they're Oakland colors and easy enough to work on while watching the game. There won't be much knitting going on this weekend, school is going to have to take precedence for a while. I do plan on heading over to the Whistlestop on Sunday with Krys. Anyone else coming?
I'm also taking a trip to Washington D.C. end of October for a school event. I'll have Saturday night and most of Sunday free, so I'll have to tour some yarn stores. I might try and meet up with my sister, but I don't have a very good idea of how far DC is from Philly. I'm really excited about this trip and am planning on getting a bit ahead in my school work so I can make a real vacation of it.
Comments:
Just wanted to announce the 4th anniversary of
Hand Knits for Young Moderns
- a website filled with scans from vintage knitting pattern books - thank you!
I live in d.c, Philly is around 2 or 2 1/2 hours away from here, but as I'm sure you know that all depends on traffic :)
There are some decent yarn stores in the area http://www.stitchdc.com has 2 locations and is full of pricey yarn
if you have any other q's email me at gluesticks@hotmail.com
I know of a bunch in MD, my LYS is Knit http://www.knitandstitch.com/ which has beautiful yarn, and is only a block from the Bethesda metro...
Post a Comment
<< Home