September 24, 2005
Long time no post
School has been taking up most of my time lately, so there hasn't been much knitting around here. I did finish the first sock to be swapped. I brightened the picture a bit to show the pattern off better - in real life it's a deeper green.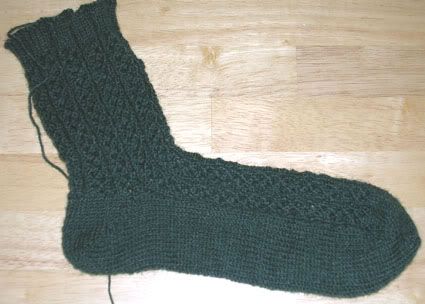 Last night in a fit of annoyance, I ripped out River, and started it over in stockinette stitch, with a garter edging. I just don't really care for garter lace. Here's how it looks right now, with the set up rows and about half a repeat completed. I also plan on switching decreases when the YOs slant the other way, think that will look quite neat.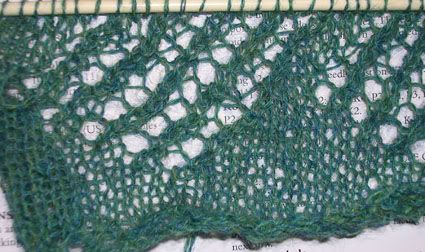 I'm also thinking of declaring October a WIP month and focusing on finishing some of my many WIPs without starting anything new. If anyone is interested in joining me, we could make a KAL out of it. I'm going to take a long hard look at my WIP pile and make decisions about either ripping or finishing each. I think I might rip my Ribby Cardi - I just don't think it's going to fit well - and reclaim the yarn for Samus. If so, I'll probably order a couple balls of the same Highland Wool in a complementary color to do the i-cord edging in.
Tomorrow
Spaaz
is coming over to loan me a spinning wheel and give me my first wheel lesson! I'm so excited!
Edit: I also just put a mail to link in my sidebar. If you have a question or comment you specifically want a response to, please email me there, since the comments are more difficult to respond to.
September 17, 2005
Fix-It Series: Volume One - The Missing Yarn Over
This is the first in a series of tutorials I'm writing on how to fix common knitting mistakes without ripping back. I'd like to thank my BF Andrew for being a good sport about taking dozens of close-up knitting pictures. If you have any concerns, or suggestions for upcoming installments, please leave a comment.
This tutorial shows how to fix a missing yarn over that is discovered on a subsequent right side row. The first step is identifying the mistake. The pattern in the sample piece is k1, *YO, k2tog* [repeat to last stitch], k1. A yarn over (YO) occurs between two stitches. Look at the picture below and try to determine where the YO should be.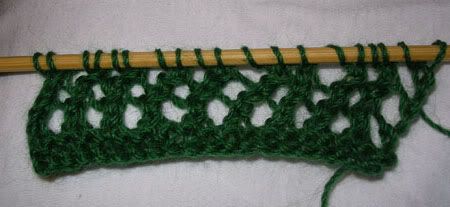 The red arrow shows where the YO should be in this pattern. Reading your knitting is an important step in fixing problems without ripping out the entire offending piece.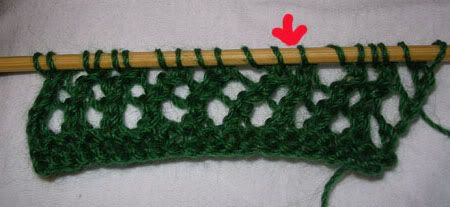 Next, knit in pattern up to the space where the YO should be.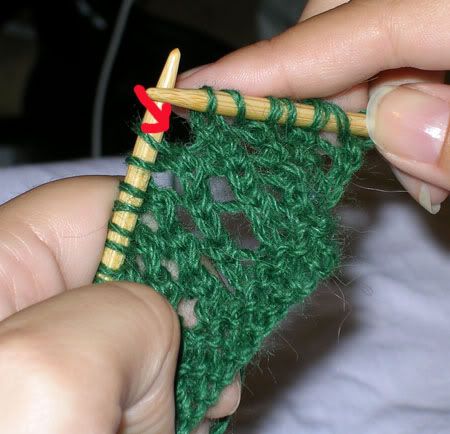 Now, place the tip of your right needle, from back to front, under the second horizontal strand between the two stitches.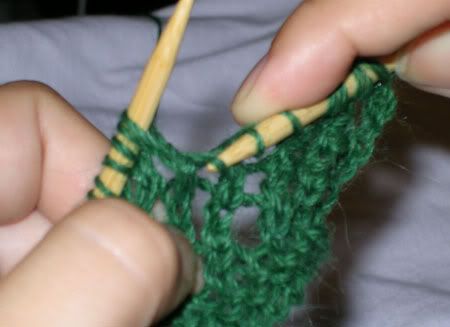 Place the horizontal bar untwisted on the left hand needle.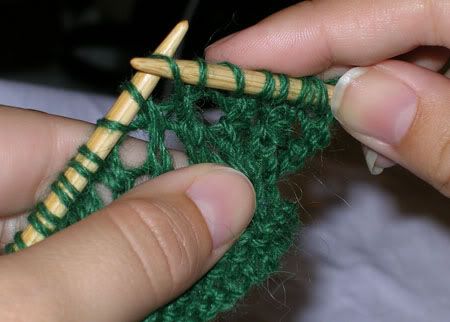 Insert the tip of your right needle into the stitch from front to back (do not twist the stitch), then pick up the first horizontal bar between the stitches and draw it through. (you are knitting into this stitch, but instead of using yarn from the ball to form a new stitch, you are using the horizontal bar in the space between the stitches above it)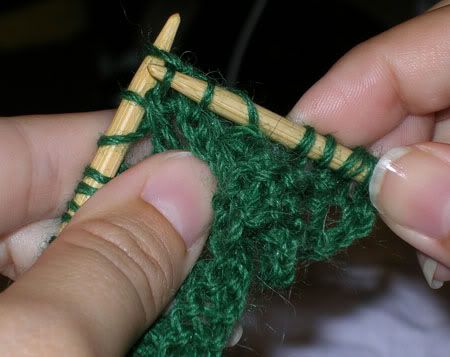 Drop the second horizontal bar off the left hand needle. You will have a twisted stitch on the right hand needle.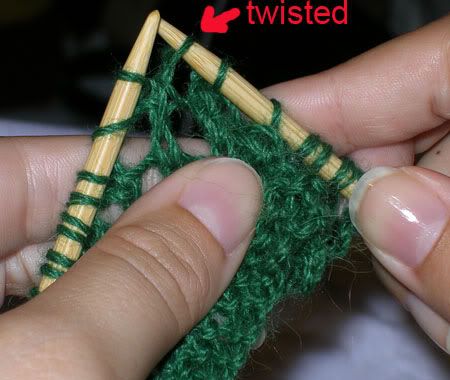 Slip this stitch back onto the left hand needle, untwisting it as you do.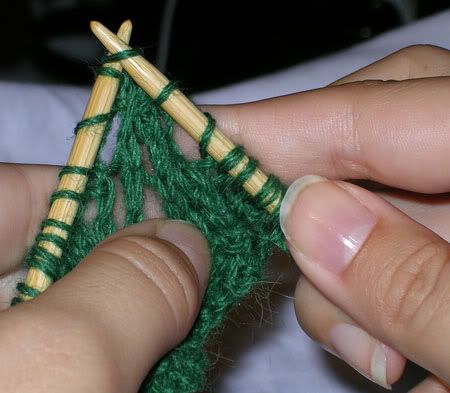 You are now ready to continue knitting in pattern, the missing YO has been replaced.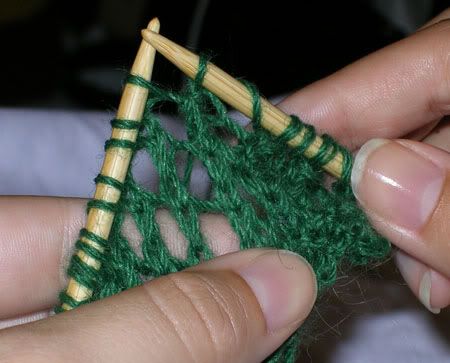 Finish the row, and then look to see if you can even find where you fixed your mistake - probably not!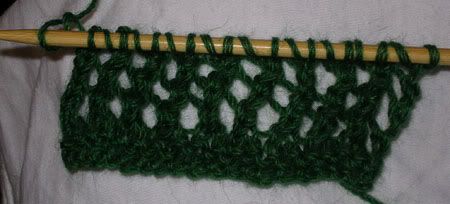 Occasionally the newly added YO will be a bit smaller than the other YOs, especially if you are a tight knitter. Don't worry, this will even out with blocking.
Coming Soon: Volume Two - The Mis-Twisted Cable
September 16, 2005
Chart 3 Done!
According to the Shawl Percentage Spreadsheet, I'm 19.7% complete - that doesn't seem very far.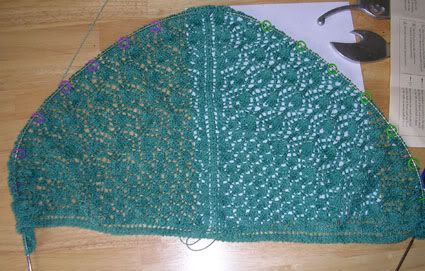 Tonight we're eating in and watching the A's/Sox game. Go Oakland! I'll probably knit the green socks, since they're Oakland colors and easy enough to work on while watching the game. There won't be much knitting going on this weekend, school is going to have to take precedence for a while. I do plan on heading over to the Whistlestop on Sunday with Krys. Anyone else coming?
I'm also taking a trip to Washington D.C. end of October for a school event. I'll have Saturday night and most of Sunday free, so I'll have to tour some yarn stores. I might try and meet up with my sister, but I don't have a very good idea of how far DC is from Philly. I'm really excited about this trip and am planning on getting a bit ahead in my school work so I can make a real vacation of it.
September 15, 2005
If I Ever Leave this World Alive
No post and no knitting yesterday because Andrew and I went to see Flogging Molly. Great show, by the way, and the House of Blues here in San Diego is a pretty nice place to see a show. That said, I think I'm getting a little old to be jostled, stepped on, and beer spilt on me. Sadness.

Tonight I've mostly been doing homework to catch up from my fun yesterday, but I did manage to finish the heel of the green sock and complete 2 of the last 4 rows of Chart 3 of Peacock. Pictures tomorrow, when there's some sunlight.

I tried to get a picture of Fitzy (our possum) off Andrew's computer to post, but I can't find it. Maybe that will come tomorrow too.

September 13, 2005
Sock update - now with sleeves
I'm just about through the heel of the first sock for my sock exchange.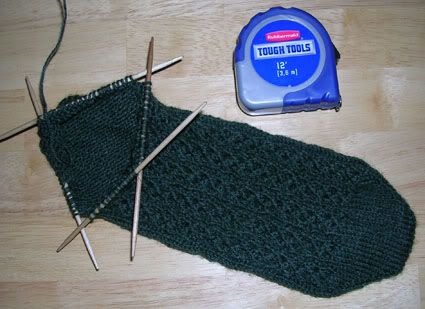 The pictures on the dark side, I have late classes on Tuesdays, so no good light left by the time I get home. The heel isn't complete because I got a ride home from school. (no complaints here, any time I don't have to take the bus is fine by me) I'll probably finish this sock middle of next week. As long as I keep up this pace I'll have no problem completing them by October 31st.
I also worked on my York sleeves a bit last night. I've still got 5 rows to the sleeve cap shaping, but I'm really enjoying working with the wool/alpaca blend.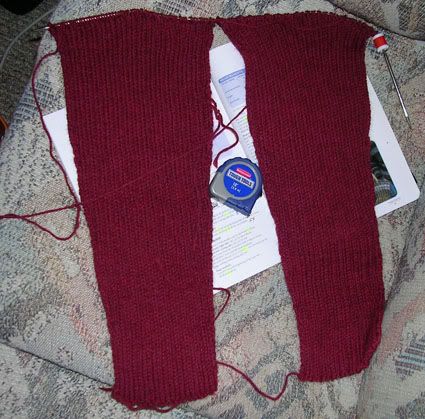 I included the same tape measure in both pictures for scale. While the sleeves are as long as the pattern calls for, my monkey arms need extra long sleeves.
Peacock is a little farther along after the weekend, but no new picture to show. I have four more rows of Chart 3, and I plan on taking a picture after completing that chart. I also completed the first repeat of River and weighed the remaining ball of yarn (46g). I'll be able to make a nice long scarf with just 50g of laceweight alpaca, yay!
I gave the felted clogs I just finished a test drive this morning, and they were so nice and warm I want a pair for myself. I'd like a different color though. Does anyone have some Cascade 220 (or other worsted weight feltable wool) they'd like to trade for some of the green Quatro? My size requires three hanks of 220 (600g), and I can trade an equal amount of the green. I'd love blues or maybe purple.
September 12, 2005
My new neighbor on the California Knitbloggers ring
Miss McSpazzitron
tagged me with this meme, so here it goes.
Ten Years Ago
I was just starting eighth grade (this is the part where everyone fusses about how young I am) and my last year of private school. I started wearing contact lenses, ditching my bulky glasses from there on out. I was very nerdy and kind of a loner, spending most of my time reading.
Five Years Ago
I was getting ready to move to San Diego and start college at UCSD. I was dating a boy who was completely wrong for me (which I'd figure out by Christmas time) and was very anxious to be moving away. I had come out of my shell a bit in high school, and while still nerdy (I'll never shake that) I had friends.
One Year Ago
I had just started law school and was anxious about fitting in and making friends, as well as keeping up with all my classwork. I was living with Andrew in Clairemont Mesa and had just started knitting a few months earlier.
Five Snacks
1. Tofutti Cuties
2. Peanuts
3. Sushi
4. Chips with Curry (yes, I know, but it's good)
5. Fudgesicles
Five Songs I know all the words to
1. I Will Survive
2. California Love
3. Army (Ben Folds)
4. Living on a Prayer
5. Tangled Up and Blue
Five Things to do with $100 Million
1. Buy a house
2. Pay off student loans
3. Buy a less ghetto car
4. Knit whatever I want
5. Fund coffee scholarship at CW
Five Places to Run Away to
1. Costa Rica
2. Hawaii
3. My apartment with the phone turned off
4. Seattle
5. San Francisco
Five Things I would never wear
1. Poncho
2. Skorts
3. Tube Top
4. Fur
5. Those ruffley mini skirts
Five Favorite TV Shows
1. Law and Order
2. CSI
3. Alias
4. most shows on the History Channel, PBS or Discovery Channel
5. Dr. Katz: Professional Therapist
Five Biggest Joys
1. Sleep
2. Love
3. Sushi
4. Laughter
5. Knitting
Five People to Pass This on to
I'm not big on passing these things along, so if you want to play and haven't yet consider yourself tagged.
September 11, 2005
Is it Fall yet?
It's finally starting to cool down here in SD. August was exceedingly warm this year and it's nice to want to feel cozy again. I was actually a bit cold last night (looking at the temps in SD I see that it may have gotten below 65, damn I'm a wuss). This has finally lead me to pull out some nice wool sweaters I stalled on last spring. Today I knit a few rows on York's sleeves and realized I put it away with a grand total of 15 row to the sleeve cap shaping. The front and back are finished, so once I get these sleeves done all that's left is blocking, seaming, and knitting the collar. I'm knitting it in Cascade Lana D'Oro, which is a lovely discontinued yarn I picked up for a steal off eBay.

I have an overwhelming desire to make a big bulky v-neck pullover for snuggling in this winter. I think after I finish York, and maybe bring the Ribby Cardi back out of the UFO pile I'll let myself purchase some nice soft bulky weight yarn for a quick sweater. I don't really like knitting with big needles usually, but I have this picture in my head of a bulky sweater with a big fat cable up the front that splits at a v-neck, and with extra long sleeves. Any suggestions for a nice soft yarn that fits the bill? I'm hoping for a merino or alpaca blend that won't break the bank.

In other news, I did manage to go for my run today and it actually felt pretty good. I'm on a new workout schedule of DVD workout in the morning and cardio in the afternoon/evening. Seems to be working pretty well so far.

September 10, 2005
One Step Forward, Two Steps Back aka One FO, Two new WIPs
The felted clogs for my step-dad are done! You can see pre-felting pictures
here
. We wear the same sized shoes and they fit perfectly.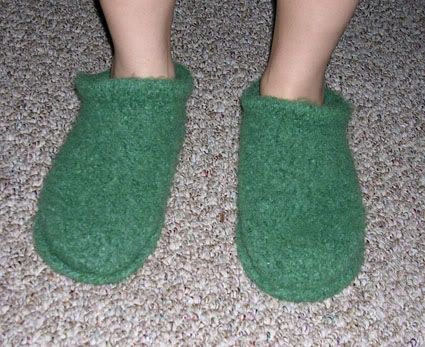 and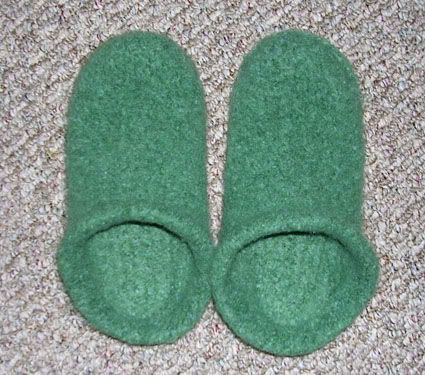 It took three trips through the hot washer (at a cost of $2.25) to get them to felt up to the right size. They are really think and have zero stitch definition. Now all that's left is to buy some fabric paint or shoe goo to dot on the bottom. My parents have hardwood floors and I don't want to be responsible for a slip and fall.
The pattern is Felted Clogs, from Fiber Trend. It was an extremely neat and well written pattern, but never have I counted so much for such a tiny object. I used 3 skeins of Cascade 220 Quatro. This is also the item that I learned to knit right handed for. The pattern has you short row across the top, which ment a lot of turning. Now I can knit back and forth. Goal for this weekend is to learn to purl right handed, so I can knit back across Peacock with the garter border.
I've completed one x-mas gift now. In response to Leslie's question, the feather and fan socks for my mom are on hold right now. I'll work on the second one closer to the holiday. I'm debating making another pair of these clogs for one of my brothers. He has much larger feet, so we'll see.
Now for the new projects. I finally received my Rowan 38 yesterday, and promptly cast on for the River Stole for the knit a long that started last week. I finished the set up rows and then weighed the remaining ball (48g) to make sure I leave enough for the finishing rows at the end.

This is a bad picture, but it's the best I could get with the cloud cover this morning. I'm using much smaller needles than called for in the pattern; US5s instead of US10.5s. I'm planning on using it more as a winter scarf than as a shawl, so it will work better narrower. Overall, I'm kind of pleasantly surprised with Rowan 38. I'd heard so many bad things about it, that I was pleased to see a couple things I'd like to knit inside.
I also cast on for Jake's Firefly hat last night. The Jon brought the yarn over when he and Kristin came over for beer and video games. I'm using the pattern
here
with slight modifications for Jake's giant head.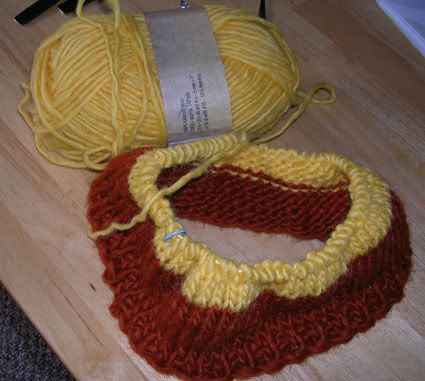 I'm a little disappointed with the shade of orange, a little too brown, but it looks more orange with the red thrown in there too, so it should turn out ok.
One last thing, which is more of a housekeeping issue. Blogger makes it kind of difficult to reply to comments. They show up in my email, but I can't email back, for example. The way I see it, I have a few options; do nothing with comments (what I tend to do now), reply in the comments (which I think is silly, because who comes back to read the comments again after commenting), go to the blog of the commenter and reply there (what I try to do), or answer questions in my next post (I did this today). I really do make an effort to visit the blogs of those who comment here. Just wanted everyone to know I appriciate your comments even if I don't reply.
September 08, 2005
More socks!
First off, hi to all the folks stopping by via knitty. I feel like I need to be more interesting with the dramatic increase in blog traffic.
I'm 4.5" into the foot of the sock exchange sock, which has been my bus knitting this week.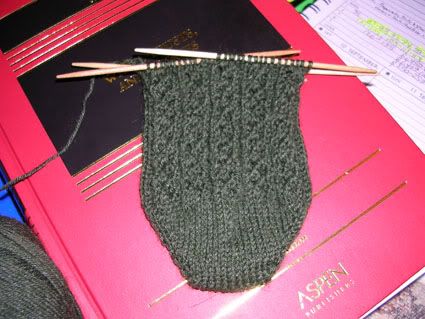 The patternis Go With the Flow from Summer '04 IK, but altered to be toe up. I worked my first figure 8 toe, and it was great fun. I haven't figured out how calf increases will work into this pattern; I'll burn that bridge when I come to it, as dad would say.
Peacock is kind of on hold as the rows are taking so long right now - almost an hour to knit the pattern across and purl back - mainly because I purl so slowly. I think it's now weekend knitting. The clogs need one last trip through the wash, which should happen tomorrow.
In non-knitting related news, Andrew is back from Sweden. It's good to have him home.
September 07, 2005
New Knitty is up!
My pattern is
here
. Let me know what you all think. (and thanks to
Ms. Bowerbird
for stopping over with a nice comment already - you were indeed first. P.S. your Rogue is looking great.)
In other knitting news, I cast on for the socks for my
advanced_knit
sock exchange last night and am halfway through the first foot today. Not sure if my sock buddy reads here or wants to be surprised or not, so I'm holding off on pictures until I email her.
Now it's homework time, I'm only a week and a half in and I'm swamped already!
September 05, 2005
One present down (almost)
I finished the knitting and seaming on my step-dad's felted clogs yesterday - they're huge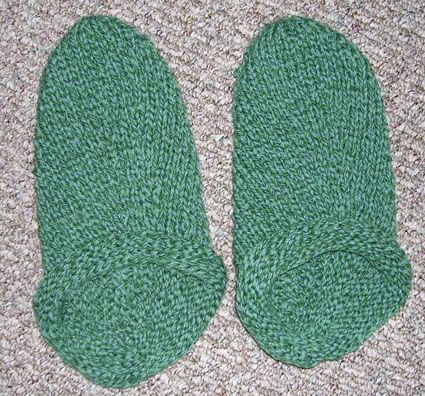 For comparison, we wear the same size shoes. I feel a little weird/exposed posting a picture of my foot, but at least I have pretty toe nails.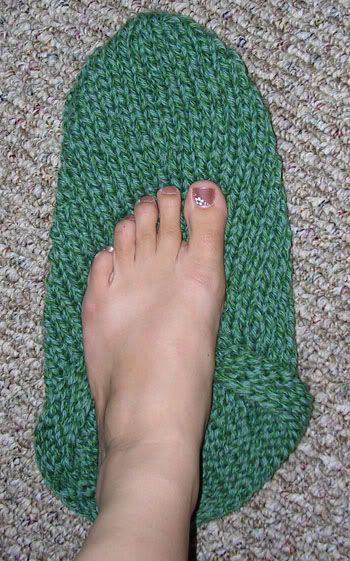 I ran them through the washer once, but they're not very felted yet. I think one more trip through the washer is in order, and then hand felting after that if necessary.
Whistlestop was fun as usual. It was good to see
Kris
again, and she gave me a signed copy of the Yarn Harlot book! I also got some prize sock yarn from her. Thanks Kris! Her Birch is looking lovely too.
I also got halfway through Chart 3 of Peacock yesterday. Today is a homework day, but if I manage to finish early I'll be working on finishing that chart.
One more thing - I realized I don't have a blog button. I'm no good at that type of thing, so everything I've tried to make looks crappy. Anyone want to help? Ariel?
September 03, 2005
SP5 Wrap-up
I received my final package from my secret pal today and found out her identity. Bridget of
knit cetera
has been sending me all those nice presents. Her last package was equally lovely.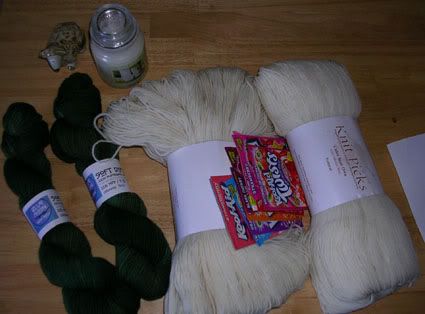 That's Blue Moon Merino sock yarn, Knitpicks dye your own sock yarn, Kool-aid for dying the knitpicks, a linen scented candle (love the smell), and a little sheep. The sheep reminds me of a Wallace and Gromet sheep. There was also a container of real Maple Syrup that didn't make it to the picture. Mmm, pancake breakfast. It appears my lifelong distaste for maple syrup was only for that fake stuff stores try to pass off for the real thing. The real stuff is quite tastey, and I didn't even mind the stickiness.
I had to take a close up of the sock yarn, because it's really such a wonderful green. The varrigation is really subtile, so I think these will make a great pair of patterned socks, either Retro Ribs, Go With the Flow, or something out of Knitting on the Road.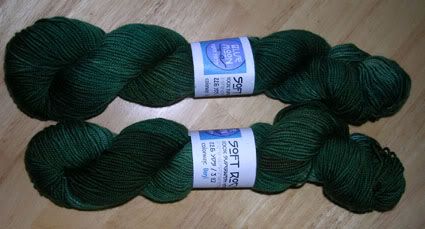 The person I was spoiling was Shetha, who's blog has been down so I can't link you to her. I'll come back and edit this when it's back up.
New discovery of the weekend - I'm allergic to oven cleaner. The people who lived in this apartment before us burned something onto the bottom of our oven that makes the smoke alarm go off every time we use it. Since we were going to have the oven on with guests over today, we finally got around to cleaning it. I was in the livingroom at the time and took one breath of the fumes coming from the kitchen and immediately started having trouble breathing. Andrew hustled me out the front door pretty quick though, so it didn't turn into a bigger problem. Now I never have to clean the oven! If only I could develop an allergy to dishes...
Peacock progress
I finished chart 2 of peacock on the drive up to Anaheim last night. It was extremely poor car knitting, as I had to look down too much and got a little nauseated. Here it is 2 rows into chart 3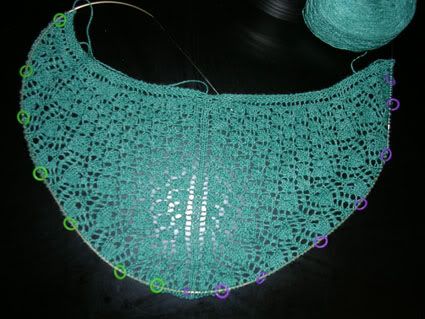 The rows are getting really long now, with the purl rows taking forever. I'm really enjoying watching the pattern emerge and I think it's going to turn out really great.
I also got my final package from my secret pal today. Once again it was great, and I'm waiting for some daylight to try and get an accurate picture of the great sock yarn she sent. Tomorrow I'll post pictures and details of who I gave to and received from.
We're having a Labor Day BBQ tomorrow. It was supposed to be on Sunday, but now Andrew has to leave for Sweden Sunday morning. We're a bit peeved, as he just found out about this business trip today - much too short of notice for out of the country travel in my opinion. He'll be gone Sun-Thurs doing some coding. Anyone planning on hitting up the Whistlestop on Sunday?
September 01, 2005
September Goals
Let's see how I did on my August goals -
1. Avoid the temptation to cast on for Madil's Shawl before finishing FBS. - DONE
2. Finish FBS so I can start MS guilt free. (This will probably take two evenings, I'm just being lazy) - DONE
3. Finish at least one pair of socks before casting on for new socks. A pair means two matching socks, not any two socks. - kind of done, I didn't finish any socks, but I didn't cast on any either.
4. Finish hat for Sydney before it winds up being too small. - DONE
5. Either cast on for mitten number two or finish clog number two. - almost done, I'm going to try and finish the clog this weekend. I would have finished it last night, but had too much homework.
6. Knit whatever else I want, as long as it's from my stash. - not done, I started Peacock from new yarn.
7. Only buy yarn for SP - not done, I bought 6 balls of yarn this month.

New Goals (I am getting better at completeing my goals, or maybe just better at writing realistic goals) -
1. Finish school work before knitting at night.
2. Put down knitting long enough to do running program three nights a week.
3. Finish Dad's clogs.
4. Do at least one repeat on Madil.
5. Finish Chart 4 of Peacock.
6. Cast on for advanced_knit sock exchange.
7. Keep stash the same or smaller, and make a spreadsheet or something so I know what I actually have.

We're driving up to Anaheim tonight to see an A's/Angels game (Andrew is a big A's fan). I'll be knitting in the car and will have a progress picture of Peacock tomorrow.