August 22, 2005
WHRRC
I started a jogging routine this week. I'm following
this
plan. As a founding member of WHRRC (that's the We Hate Running Running Club), I decided it was finally time to get back in shape. So far it's been good, with only mild soreness and no knee pain. Running is also one of the only forms of exercise that suppresses my appetite instead of making me hungry.
But you all are here for the knitting, and knitting I have for you -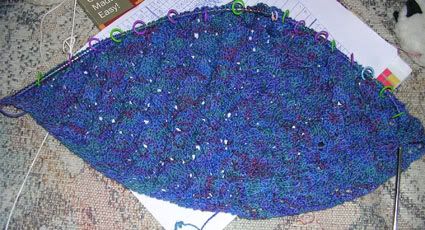 FBS, just four rows shy of finishing the main repeat. I was hoping to finish this before bed tonight, but the rows are getting longer and longer. After those rows, I have a ten row edging and a freaking long bind off. I'd like to finish it tomorrow, but we'll see.
I'm doing great on yarn so far -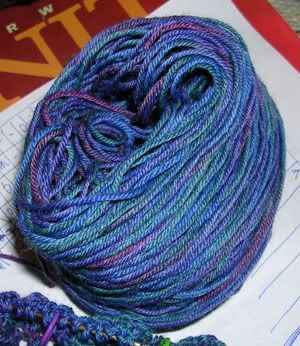 That's 18g of 50g remaining. I may manage to finish with one hank of Lorna's. Of course, now that I said that, I'll need 5 yards of the second hank. If I actually don't have to break into the second one, I'll probably try to trade someone for a single hank of a different color and make a different short shawl. There's a nice one in Scarf Style I've been eyeing.
Speaking of lace,
Krys
and I placed a joint order for several Fiddlesticks Knitting patterns today. We ordered
Peacock Feathers
,
Creatures of the Reef
,
Tina
, and
Lotus Blossum
. I also ordered some Zephyr for Peacock Feathers. This should keep the two of us in lace knitting for a long time.
Tomorrow I go pick up my school books and see what the damage is for pre-class homework. It better not cut into my last week of pure knitting freedom.
Comments:
I just picked up Creatures of the Reef myself a little while ago. I picked up some Zephyr to make it with. Maybe we'll end up making them at the same time! :)
FBS, and the yarn you're using to make it, are both very pretty. I'm planning on making my mom Creatures of the Reef for Christmas, and just bought my first order of Zephyr today...can't wait to try lace knitting "real lace knitting".
Post a Comment
<< Home