August 19, 2005
Retail Therapy and Future Slacking
I finished up my summer internship today. It wasn't really much of a finish, as I'll be back in two weeks part time during the school year, but I did have a slightly stressful day getting some time sensitive stuff done. So after work, it was time for some retail therapy.
I stopped into Nest Boutique in Little Italy, since I'd heard everything was 30% off. I showed restraint, and came home with this: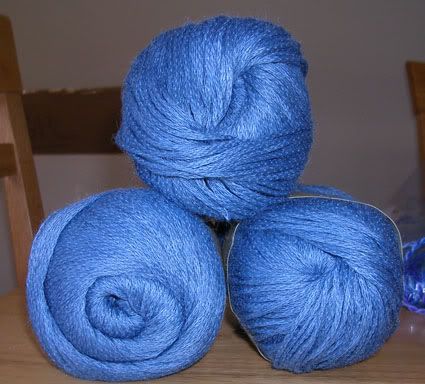 Southwest Trading Co. Bamboo, for a self designed tank. I've had this design stewing in my head for a while, so I'll probably get to swatching to see if it'll work in the near future.
I resisted Crack Silk Haze in a pretty blue for the River Stole, so I think I'll be knitting that in my Knitpicks Alpaca Clouds. I also resisted some lovely shades of Manos and Rowan Felted Tweed. If you are in SD and looking for a deal, check them out. I don't know how long the sale lasts, but they still had a good amount of nice stuff today.
I took another progress picture of Madil: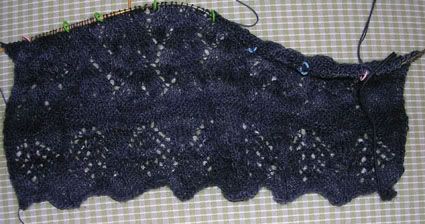 It's inching along. I made it through a repeat at Claire de Lunes on Wed, but noticed my stitch count was off when I got home. I haven't had a chance to sort that out yet, but I'm figuring I just forgot a YO somewhere, easy fix.
I also got started on the cabling for Veste Everest. No picture yet, as there's not much to see. Once I get a few inches in, I'll take one. I'll probably bring this one to the Whislestop on Sunday - anyone else heading out there?
Oh, and go visit Krys at her new blog
Knitting Affairs
. It's always nice ot know I'm not the only knitter with committment issues.
Comments:
Your Madli is lovely - that color is absolutely to die for! Hope it continues to go well. Have a great weekend.
Post a Comment
<< Home