August 28, 2005
Proud as a Peacock
Thanks everyone for your kind comments about my Flower Basket Shawl. I've got one last picture of it, after unpinning it;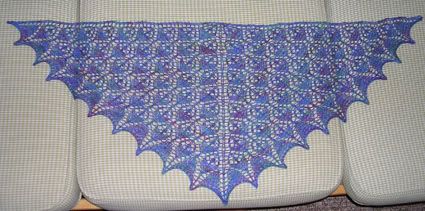 I haven't gotten a chance to wear it yet, as the weather has been unbareable. This weekend has mostly been spend doing fun back to school things, but I did get a chance to cast on for my Peacock Feathers Shawl. I'm about halfway through Chart 1 in this picture.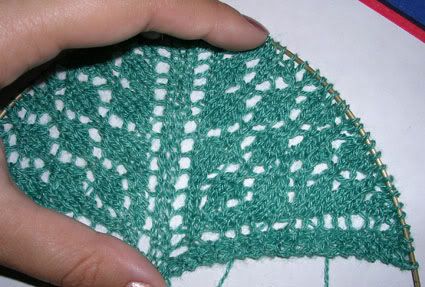 I'm using Jaggerspun Zephyr, and it is delightful to knit with.
Madil's Shawl is temporarily on hold, as I've become enamored with this new knit. I think Madil will be a long haul project, with a repeat or two getting finished each month. I still love and want to have that shawl, but it's not a quick knit at all.
In other knitting goals, I picked my step-dad's x-mas gift back up and almost finished it. His felted clogs only need a cuff and a second sole. I'm committed to finishing them by the end of the month, so there will probably be some extremely focused knitting over the next few days.
I'm off to relax in my last moments of freedom. Have a good week everyone!
Comments:
Hi Jessimuhka,
I love your FlowerBasket Shawl. it looks like you're in shawl land right now and as I'm working on a couple of christmas presents right now, I'll have to keep an eye on you to see what's going on.
Anyway, I found your blog since you're my neighbor on the Califonia blog ring. Just wanted to introduce myself. Keep up the beautiful knitting!
As a side note, if you like the Jaeger Zephyr, the Yahoo yarncoop group is doing a coop with FurrYarns.com who apparently is selling a yarn called Zephyr that's supposed to be quite similar to the Jaeger version. It's 630 yds for $8.60 at the coop price in hand painted colorways and the solids are lik $2.70 for 315 yds. You may have already seen this, but I thought I'd pass it along in case you haven't already.
Hi! I just wanted to out myself as not only your SP but your blogstalker too! Your FBS is gorgeous and I already have 2 skeins of the misty alpaca laceweight to make my own -- waiting to finish Kiri and another lace project before I start it. I'm also sort of working on a wrap in the Jaeggerspun Zephyr and I tell you what -- it makes ALL The difference in the world to have the right needles for those K2togs and SSKs. Are those Addi's you're using? How are they working for you?
Thanks again for all the nice stuff!
Post a Comment
<< Home