August 14, 2005
New Project
I cast on for Madil's Shawl Friday night and finished the border last night.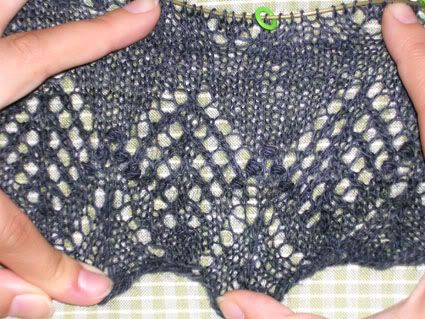 It's been a really fun knit so far. The only alterations I've made are dropping the needle size from 5s to 3s; subbing slip 6, purl 1, pass slipped stitches over, for purl 7 tog; and changing a left slanting double decrease to a centered double decrease. I've also knit two rows of the first 12 row repeat, but put it down after realizing lace isn't something I should attempt with three beers in me.
Those of you who remember what I say might be expecting a picture of a completed Flower Basket Shawl here. I tried, really, I did, but I needed to frog a few rows due to a mistake and the yarn snapped mulitple times during frogging. I pitched the whole thing, as I'd been having reservations about the yarn for some time. I do want to knit it again sometime in more suitable yarn. I'm thinking maybe some of my sock yarn stash wants to be a FBS.
I also cast on for Veste Everest on Thursday, and have knit through the bottom ribbing. I'm knitting it in the round, because I know I'll never finish an identical back and front. Pictures of that once I get some cabling in.
Today I think I'm just going to take it easy and knit, any maybe wander down to see what " Cityfest" is all about. All the streets in my neighborhood are blocked off for it. I also should start a sock for the bus, or I'll be without bus knitting this week.
Comments:
Hey Jessica,
It was night to meet you at Clair de Lune the other night. I thought I'd seen your blog here before! I'm thinking about knitting a FBS but don't have the yarn yet. I'd be curious to see what yours looks like!
Post a Comment
<< Home