August 16, 2005
Moving along
Two repeats down on Madil's Shawl, 29 to go.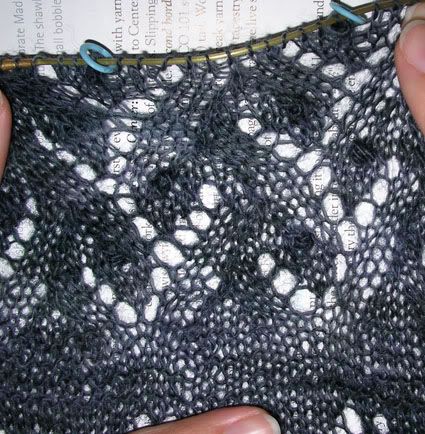 This is going to take forever. Still fun though, and the nupps are going more quickly.
I've gotten back into working out again and it's cutting into my knitting time. I only have 3 days of work left before a week off though. I think I'll devote that week to this shawl and see how much I can get done before school starts.
Edited to add: The yarn I'm using is Handpaintedyarn.com's laceweight merino in Paris Night. It's a single ply, but fairly strong.
Comments:
It's looking beautiful. What yarn are you using? The subtle color variations are really pretty.
I do love Madli. I keep thinking I need to make it and then something new pops up and takes over.
If only we could stay home from work everyday and knit!
Post a Comment
<< Home