August 20, 2005
More than meets the eye
I started Flower Basket Shawl version 2.0 last night. Here's a picture of it two repeats of the lower basket in: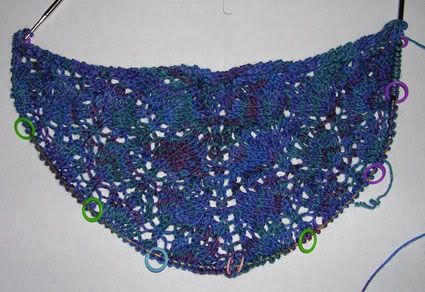 I'm knitting it in Lorna's Laces Shephard Sock, Tahoe. This is seriously the nicest sock yarn I've ever handled, it's zipping along because the yarn feels so good in my hands. My goal is to finish this during my week off. I haven't abandoned Madil though, just a little quick knit infidelity.
Andrew thinks the Flower Baskets look like the Transformers logo. You decide: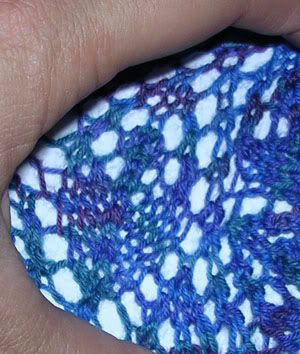 On an unrelated note, is there anyone else that subscribes to Rowan and hasn't gotten Mag 38 yet? If I don't get it in the next few days I'm going to send them an email. I double checked, and I remembered to change my address with them when I moved, so that's not the hold up.
Tonight is poker night at the boys's house, so probably not much knitting. I am taking socks, in case I get knocked out early though.
Comments:
I kind of reeeeallly have to squint to see the Transformers logo. I think it's much more basket-y. Lovely shawls (I followed you from the lace yarn post I made on the knitting LJ). So, yours is a Transformers loving Andrew, too?
Post a Comment
<< Home