August 24, 2005
Finished FBS!
Cast off for the FBS today.
Here it is just off the needles -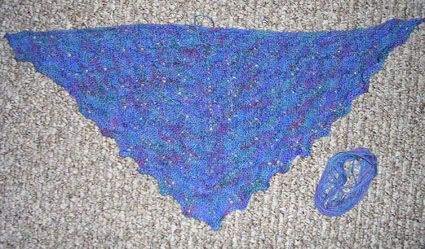 That little ball of yarn is all I had left from the hank of Lorna's Shephard Sock. I have a whole hank left if anyone wants to swap out for something else. My preference would be for a full or nearly full skein of Shephard Sock in a different colorway or a comparable amount of lace weight wool.
It's currently blocking in the office -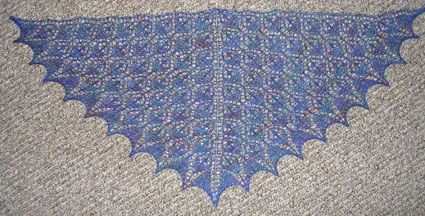 Details:
Pattern - Flower Basket Shawl, from Interweave Knits Fall '04, also available from Fiber Trends
Yarn - Lorna's Laces Shephard Sock in Tahoe, 50g
Needles - US6 Addi Turbos. I went down a needle size because I like the St st part of my lace a little firmer. US9 Crystal Palace DPN to bind off.
Started - Aug 19
Finished - Aug 24
Modifications - Change in needle size, noted above; replaced right slanting double decreases with centered double decreases; used a single strand of sock weight instead of a double strand of lace weight.
This was a really fun and quick knit. The pattern really clicked with me this time. This was probably the most monogamous I've ever been with a project. All I did on the side was half a swatch and a few rows on a sock.