August 09, 2005
All together now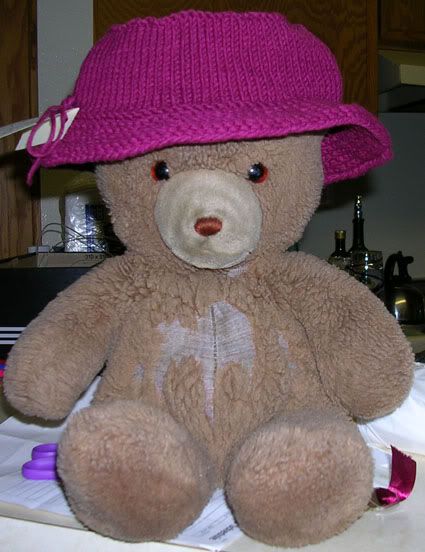 "Awww"
It's a
Bucket Hat
by Bonnie Marie Burns. Back when I bought the pattern (right after I started knitting, so about a year and a half ago) you got the plain knit and felted versions in one pattern. It's a great pattern though. I sized it down for a baby, and it has a circumference of 16". According to baby charts, it should fit a 3-6mo old. I'm taking it into work tomorrow to drop off with the new dad. I hope they like it! I also hope I get a picture of the baby wearing it, to replace my sad Oso.
In other news, I finally picked Leaha's mini-clap back up. I got through 5-6 repeats in LA over the weekend, and am getting through 2 per night watching Firefly. The jury's still out on that show for me. It's ok, but it's not all it was hyped up to be so far. Plus I'm not that into SciFi. It's just about 3 feet long now. I'm shooting for at least 6, probably longer, as it's fairly narrow and I want her to be able to wrap it a bunch of times.
I also knit a repeat on my FBS yesterday. I've only got half a repeat left, and then the edging, so maybe I'll finish it up this weekend. I'm not sure how it's going to turn out yet, as the yarn I'm using is a little irregular. There are also a couple of mistakes that I know are there, but haven't been able to find and fix. I'm worried that once I block it they'll really jump out at me.
This short rash of working on established projects has me itching to start something new. I almost cast on for
Veste Everest
from this fall's IK tonight, but decided it was getting too late to cast on that many stitches. Maybe another night.
I'm trying to get everything sorted out now that life has settled down for a bit. I have a week and a half of work left, and then a week off before school starts. I'd like to finish up a couple projects before school and have a travel project and one or two at home projects during school. I'd also like to get more organized, figure out how much yarn I actually have and try to sell or give away some what I don't want.
Speaking of - I have 9 balls of Rowan Cotton Fine Chenille that I am never going to use. It's a sport weight and there's probably enough for a small womens sweater or several small projects. Anyone want to trade for something they bought and fell out of love with?
Comments:
I don't need any more yarn, but I do have that shine for you. Missed you at today's Balboa Park event. Very few showed. I'll be at Whistlestop on the 21st.
Post a Comment
<< Home