August 28, 2005
Proud as a Peacock
Thanks everyone for your kind comments about my Flower Basket Shawl. I've got one last picture of it, after unpinning it;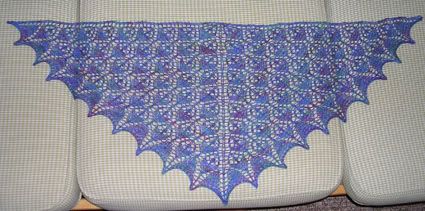 I haven't gotten a chance to wear it yet, as the weather has been unbareable. This weekend has mostly been spend doing fun back to school things, but I did get a chance to cast on for my Peacock Feathers Shawl. I'm about halfway through Chart 1 in this picture.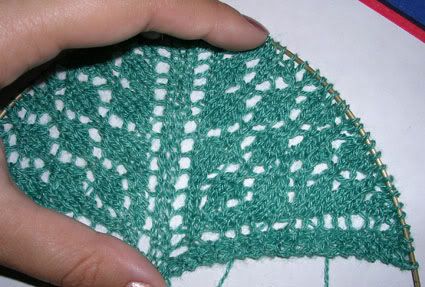 I'm using Jaggerspun Zephyr, and it is delightful to knit with.
Madil's Shawl is temporarily on hold, as I've become enamored with this new knit. I think Madil will be a long haul project, with a repeat or two getting finished each month. I still love and want to have that shawl, but it's not a quick knit at all.
In other knitting goals, I picked my step-dad's x-mas gift back up and almost finished it. His felted clogs only need a cuff and a second sole. I'm committed to finishing them by the end of the month, so there will probably be some extremely focused knitting over the next few days.
I'm off to relax in my last moments of freedom. Have a good week everyone!
August 24, 2005
Finished FBS!
Cast off for the FBS today.
Here it is just off the needles -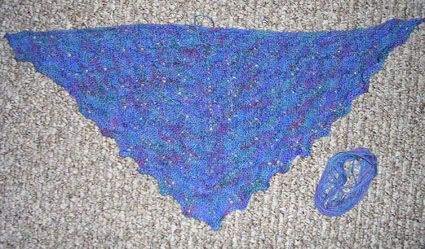 That little ball of yarn is all I had left from the hank of Lorna's Shephard Sock. I have a whole hank left if anyone wants to swap out for something else. My preference would be for a full or nearly full skein of Shephard Sock in a different colorway or a comparable amount of lace weight wool.
It's currently blocking in the office -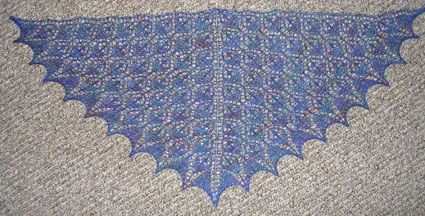 Details:
Pattern - Flower Basket Shawl, from Interweave Knits Fall '04, also available from Fiber Trends
Yarn - Lorna's Laces Shephard Sock in Tahoe, 50g
Needles - US6 Addi Turbos. I went down a needle size because I like the St st part of my lace a little firmer. US9 Crystal Palace DPN to bind off.
Started - Aug 19
Finished - Aug 24
Modifications - Change in needle size, noted above; replaced right slanting double decreases with centered double decreases; used a single strand of sock weight instead of a double strand of lace weight.
This was a really fun and quick knit. The pattern really clicked with me this time. This was probably the most monogamous I've ever been with a project. All I did on the side was half a swatch and a few rows on a sock.
August 22, 2005
WHRRC
I started a jogging routine this week. I'm following
this
plan. As a founding member of WHRRC (that's the We Hate Running Running Club), I decided it was finally time to get back in shape. So far it's been good, with only mild soreness and no knee pain. Running is also one of the only forms of exercise that suppresses my appetite instead of making me hungry.
But you all are here for the knitting, and knitting I have for you -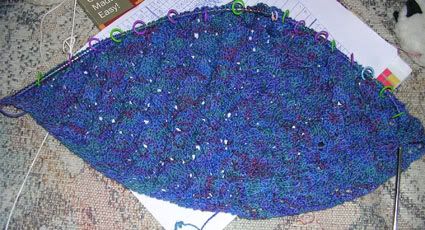 FBS, just four rows shy of finishing the main repeat. I was hoping to finish this before bed tonight, but the rows are getting longer and longer. After those rows, I have a ten row edging and a freaking long bind off. I'd like to finish it tomorrow, but we'll see.
I'm doing great on yarn so far -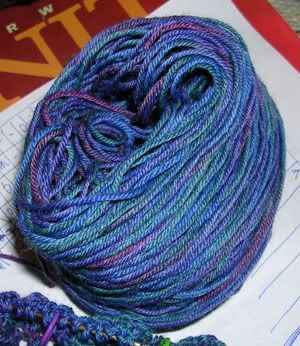 That's 18g of 50g remaining. I may manage to finish with one hank of Lorna's. Of course, now that I said that, I'll need 5 yards of the second hank. If I actually don't have to break into the second one, I'll probably try to trade someone for a single hank of a different color and make a different short shawl. There's a nice one in Scarf Style I've been eyeing.
Speaking of lace,
Krys
and I placed a joint order for several Fiddlesticks Knitting patterns today. We ordered
Peacock Feathers
,
Creatures of the Reef
,
Tina
, and
Lotus Blossum
. I also ordered some Zephyr for Peacock Feathers. This should keep the two of us in lace knitting for a long time.
Tomorrow I go pick up my school books and see what the damage is for pre-class homework. It better not cut into my last week of pure knitting freedom.
August 20, 2005
More than meets the eye
I started Flower Basket Shawl version 2.0 last night. Here's a picture of it two repeats of the lower basket in: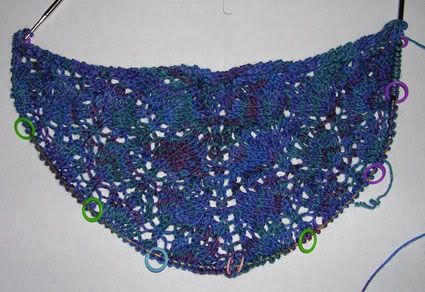 I'm knitting it in Lorna's Laces Shephard Sock, Tahoe. This is seriously the nicest sock yarn I've ever handled, it's zipping along because the yarn feels so good in my hands. My goal is to finish this during my week off. I haven't abandoned Madil though, just a little quick knit infidelity.
Andrew thinks the Flower Baskets look like the Transformers logo. You decide: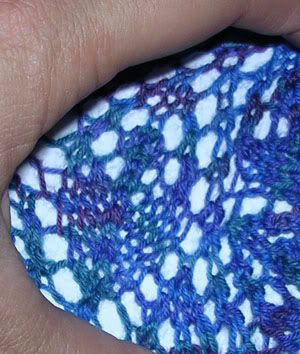 On an unrelated note, is there anyone else that subscribes to Rowan and hasn't gotten Mag 38 yet? If I don't get it in the next few days I'm going to send them an email. I double checked, and I remembered to change my address with them when I moved, so that's not the hold up.
Tonight is poker night at the boys's house, so probably not much knitting. I am taking socks, in case I get knocked out early though.
August 19, 2005
Retail Therapy and Future Slacking
I finished up my summer internship today. It wasn't really much of a finish, as I'll be back in two weeks part time during the school year, but I did have a slightly stressful day getting some time sensitive stuff done. So after work, it was time for some retail therapy.
I stopped into Nest Boutique in Little Italy, since I'd heard everything was 30% off. I showed restraint, and came home with this: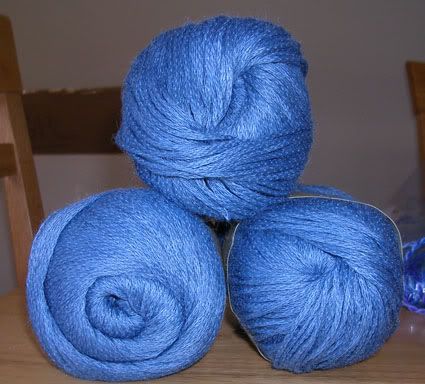 Southwest Trading Co. Bamboo, for a self designed tank. I've had this design stewing in my head for a while, so I'll probably get to swatching to see if it'll work in the near future.
I resisted Crack Silk Haze in a pretty blue for the River Stole, so I think I'll be knitting that in my Knitpicks Alpaca Clouds. I also resisted some lovely shades of Manos and Rowan Felted Tweed. If you are in SD and looking for a deal, check them out. I don't know how long the sale lasts, but they still had a good amount of nice stuff today.
I took another progress picture of Madil: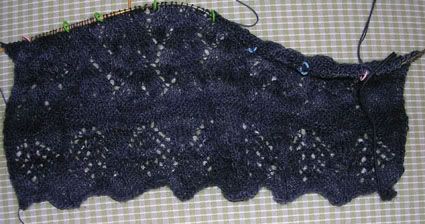 It's inching along. I made it through a repeat at Claire de Lunes on Wed, but noticed my stitch count was off when I got home. I haven't had a chance to sort that out yet, but I'm figuring I just forgot a YO somewhere, easy fix.
I also got started on the cabling for Veste Everest. No picture yet, as there's not much to see. Once I get a few inches in, I'll take one. I'll probably bring this one to the Whislestop on Sunday - anyone else heading out there?
Oh, and go visit Krys at her new blog
Knitting Affairs
. It's always nice ot know I'm not the only knitter with committment issues.
August 16, 2005
Moving along
Two repeats down on Madil's Shawl, 29 to go.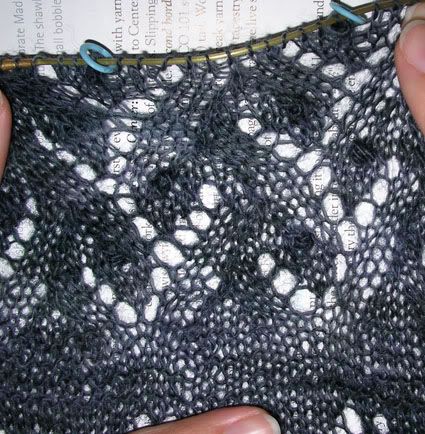 This is going to take forever. Still fun though, and the nupps are going more quickly.
I've gotten back into working out again and it's cutting into my knitting time. I only have 3 days of work left before a week off though. I think I'll devote that week to this shawl and see how much I can get done before school starts.
Edited to add: The yarn I'm using is Handpaintedyarn.com's laceweight merino in Paris Night. It's a single ply, but fairly strong.
August 14, 2005
New Project
I cast on for Madil's Shawl Friday night and finished the border last night.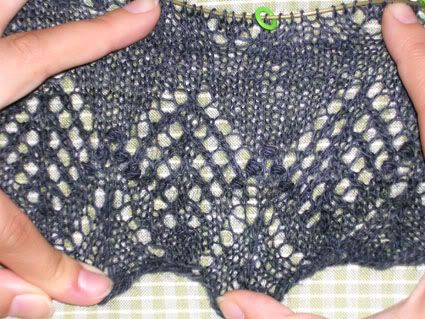 It's been a really fun knit so far. The only alterations I've made are dropping the needle size from 5s to 3s; subbing slip 6, purl 1, pass slipped stitches over, for purl 7 tog; and changing a left slanting double decrease to a centered double decrease. I've also knit two rows of the first 12 row repeat, but put it down after realizing lace isn't something I should attempt with three beers in me.
Those of you who remember what I say might be expecting a picture of a completed Flower Basket Shawl here. I tried, really, I did, but I needed to frog a few rows due to a mistake and the yarn snapped mulitple times during frogging. I pitched the whole thing, as I'd been having reservations about the yarn for some time. I do want to knit it again sometime in more suitable yarn. I'm thinking maybe some of my sock yarn stash wants to be a FBS.
I also cast on for Veste Everest on Thursday, and have knit through the bottom ribbing. I'm knitting it in the round, because I know I'll never finish an identical back and front. Pictures of that once I get some cabling in.
Today I think I'm just going to take it easy and knit, any maybe wander down to see what " Cityfest" is all about. All the streets in my neighborhood are blocked off for it. I also should start a sock for the bus, or I'll be without bus knitting this week.
August 09, 2005
All together now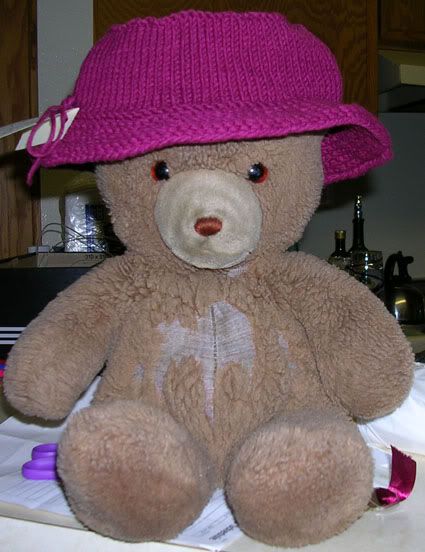 "Awww"
It's a
Bucket Hat
by Bonnie Marie Burns. Back when I bought the pattern (right after I started knitting, so about a year and a half ago) you got the plain knit and felted versions in one pattern. It's a great pattern though. I sized it down for a baby, and it has a circumference of 16". According to baby charts, it should fit a 3-6mo old. I'm taking it into work tomorrow to drop off with the new dad. I hope they like it! I also hope I get a picture of the baby wearing it, to replace my sad Oso.
In other news, I finally picked Leaha's mini-clap back up. I got through 5-6 repeats in LA over the weekend, and am getting through 2 per night watching Firefly. The jury's still out on that show for me. It's ok, but it's not all it was hyped up to be so far. Plus I'm not that into SciFi. It's just about 3 feet long now. I'm shooting for at least 6, probably longer, as it's fairly narrow and I want her to be able to wrap it a bunch of times.
I also knit a repeat on my FBS yesterday. I've only got half a repeat left, and then the edging, so maybe I'll finish it up this weekend. I'm not sure how it's going to turn out yet, as the yarn I'm using is a little irregular. There are also a couple of mistakes that I know are there, but haven't been able to find and fix. I'm worried that once I block it they'll really jump out at me.
This short rash of working on established projects has me itching to start something new. I almost cast on for
Veste Everest
from this fall's IK tonight, but decided it was getting too late to cast on that many stitches. Maybe another night.
I'm trying to get everything sorted out now that life has settled down for a bit. I have a week and a half of work left, and then a week off before school starts. I'd like to finish up a couple projects before school and have a travel project and one or two at home projects during school. I'd also like to get more organized, figure out how much yarn I actually have and try to sell or give away some what I don't want.
Speaking of - I have 9 balls of Rowan Cotton Fine Chenille that I am never going to use. It's a sport weight and there's probably enough for a small womens sweater or several small projects. Anyone want to trade for something they bought and fell out of love with?
August 03, 2005
Because I'm just that good of a friend
Poker night tonight at the boys house. I'm feeling a bit off because I just chugged a beer so Jake would chug salsa. It was totally worth it though. I did a bit of knitting after I got knocked out of the poker game and the Fiber Trends sock is about 1/4 through the toe. I also got another inch knit on Syndey's hat, only one to go before the crown shaping. Hopefully I'll have a super cute baby hat to show y'all by this weekend.

I also got an unexpected windfall today. The school called to tell me they'd made a mistake and owed me $$$! I want to buy yarn, but I've got bills to pay, and didn't I just pledge yesterday not to buy yarn for a month? I will be strong. I will not trip and fall, swiping my credit card on the way down, and going home with an armload of Supermerino.

August 02, 2005
Lamest end of the month round up ever =(
Goals for July:
1. Finish mom socks - Nope, got distracted by new shiney socks
2. Finish Leaha's gift by the 23rd - Ha, not even closse. New plan is to finish it at some future time and mail it to her.
3. Finish FBS - Nope
4. Figure out something to do with grey lace weight merino - DONE, I can do the things that only involve planning. It is going to be Madil's Shawl from last summer's IK.
5. Work on one other Christmas present - DONE, I'll be gifting the Nordic Mittens as I have no use for mittens.
6. Finish Jenny sleeve - I've decided to abandon Jenny and make the yarn into either a tank of my own design or the Annie Modesitt Corset top.
7. Keep amount of yarn the same or lower - DONE, I actually purchased no yarn this month.

Lest y'all think I'm a total slacker, I did knit 3 socks this month, along with part of a scarf and half a baby hat. I'm having serious difficulties sticking with one project all the way through completion. This month was kind of crazy though, so maybe I'll get more focused knitting in this month. Without further ado -

Goals for August:
1. Avoid the temptation to cast on for Madil's Shawl before finishing FBS.
2. Finish FBS so I can start MS guilt free. (This will probably take two evenings, I'm just being lazy)
3. Finish at least one pair of socks before casting on for new socks. A pair means two matching socks, not any two socks.
4. Finish hat for Sydney before it winds up being too small.
5. Either cast on for mitten number two or finish clog number two.
6. Knit whatever else I want, as long as it's from my stash.
7. Only buy yarn for SP