July 28, 2005
Photo essay on gauge
I received a wonderful package from my secret pal last weekend. It included some Knitpicks Alpaca Cloud, which I've been dying to try in Tide Pool

Still no plans for this. I swear I thought of something, but I didn't write it down, so now it's gone.
There was also a sock kit from Fleece Artist. I'd never seen or touched Fleece Artist yarn before. I couldn't help myself, before I even got a picture the wrapper was off;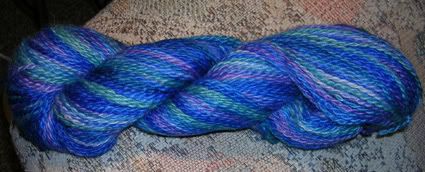 Then I had to wind it, just for kicks you know - not to start a sock or anything;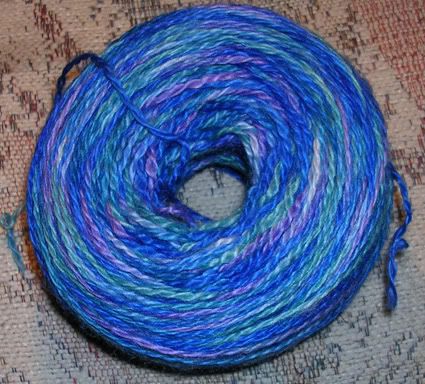 Then I had to *erm* knit a sock;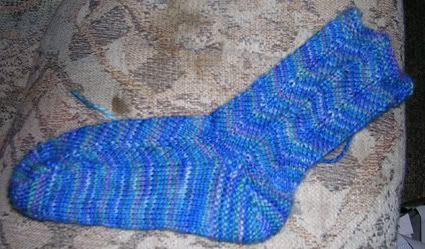 only took 3 evenings, on US 3's. Problem is it's too small. By a lot. So I had to do this;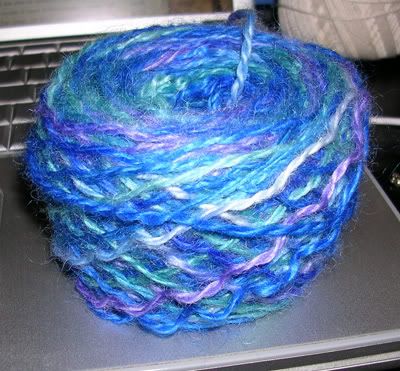 I've already re-cast on in the next size up. What I didn't realize was that the chevrons would pull in so much. This would have been the right count for a stockinette sock I think. I'm planning on taking these to Santa Barbara for the massive amounts of driving over the weekend, so I should have socks soon.
Thanks so much secret pal. Even though it didn't fit, it was a blast to knit. Now I get to knit 3 socks with this yummy yarn. I think I got the best pal possible, she (? I'm assuming here) is obviously putting a lot of effort into getting me things she knows I'd like, and I really appriciate the effort.
I leave you all with a small law student revelation:
You know the case you're reading is going to be great when you see the phrase "defendant's nephew/boyfriend" in the opening paragraph. I was not let down.