July 02, 2005
New Skills
Last night I decided to learn to knit continental style and norwegian purl because I was working on something in seed stitch. Once I got used to having the yarn in my right hand (yep, I'm still knitting lefty, that cannot be changed) it went much faster. Not needing to move the yarn to the front to purl will make seed stitch and 1x1 ribbing much less painful.
I'd been meaning to learn both these techniques in order to start my first colorwork project. I couldn't keep myself from casting on around midnight last night, and now I have this: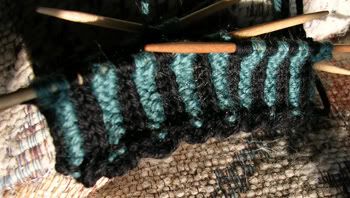 The pattern is from last winter's IK, the Nordic Mittens. I decided to go with only two colors, instead of the rainbow effect in the original. I'm about 1/3 through the cuff and really looking forward to the colorwork once I get to the chart.
I've been trying to justify how these fit into my monthly goals posted yesterday, and the only way they do is if I give these away for Christmas. I don't know about that, but how often are mittens really necessary in SD anyway?
I also sent in my Knitty submission Thursday night. It's been over 24hrs and I haven't heard a no yet, so I'm optimistic.
Comments:
Yay for Nordic mittens! I have a cuff of one Nordic mitten done, and am going to return to them now that I'm more confident in fair isle in general. (Fair isle on DPNs bit my butt when I first tried it.) Don't you love corrugated ribbing? I do. The effect is spectacular, and totally worth the effort.
Post a Comment
<< Home