July 07, 2005
Mitten Progress
I missed a day and a half of work this week with the stomach flu. This ment I got to spend the time drinking gatorade, watching Law and Order, and knitting these: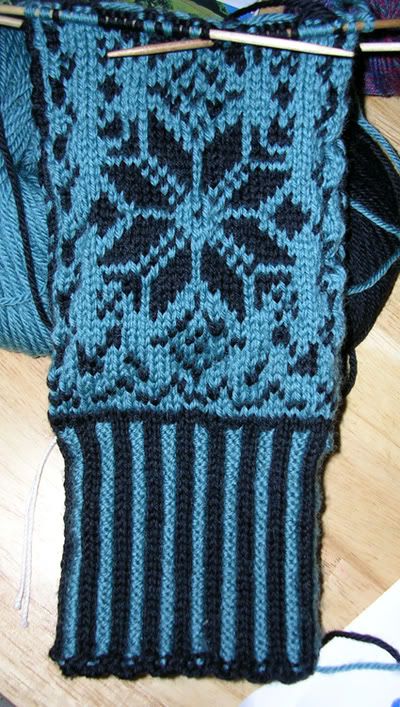 I'm over halfway through the hand now, and love how they're turning out. In a couple more rows I'll start decreasing and the rows will really start to fly by.
I'm a little concerned about the puckering, which you can see in this close up (I love macro mode - and I actually managed an in focus shot)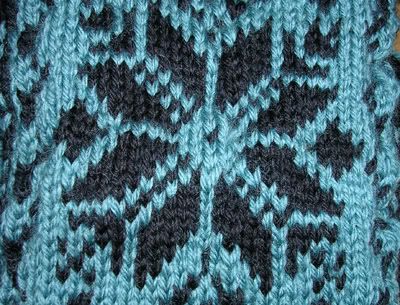 Once I finish this mitten I'll block it and see what happens. If it doesn't work out, I'll rip and start over, no huge deal I guess.
I also made progress on the mom sock and am working on the toe. They haven't seen much work lately as I got a new purse that doesn't have room for both my shoes and knitting. I'm trying to come up with ways to remedy this.
New Harry Potter in 9 days! I'm still on track to re-read the first 5 by the 16th. I read 3/4 of PoA yesterday and will probably finish it tonight. I think that one is still my favorite.
Comments:
The mitten looks great! I honestly can't see the puckering. At most, it looks like there's some stitch unevenness above and below the main pattern, but I bet you anything that will fix itself when you give it a few good tugs and block it. You're *so* not going to have to frog that.
PoA is my favorite, too. I wish I still had book 3 or 4, as I feel like doing anticipatory HP reading, and have already read book 5 2 or 3 times in the past 2 years. I'm about 20-30 pages from the end of my current read, so something must be done, quickly! (If only HP came out tomorrow...)
Post a Comment
<< Home