July 28, 2005
Photo essay on gauge
I received a wonderful package from my secret pal last weekend. It included some Knitpicks Alpaca Cloud, which I've been dying to try in Tide Pool

Still no plans for this. I swear I thought of something, but I didn't write it down, so now it's gone.
There was also a sock kit from Fleece Artist. I'd never seen or touched Fleece Artist yarn before. I couldn't help myself, before I even got a picture the wrapper was off;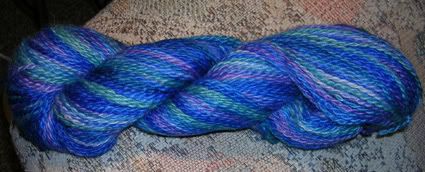 Then I had to wind it, just for kicks you know - not to start a sock or anything;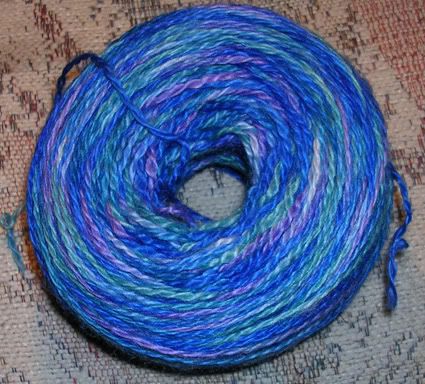 Then I had to *erm* knit a sock;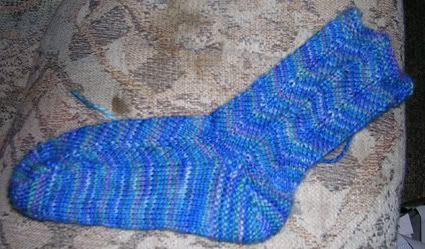 only took 3 evenings, on US 3's. Problem is it's too small. By a lot. So I had to do this;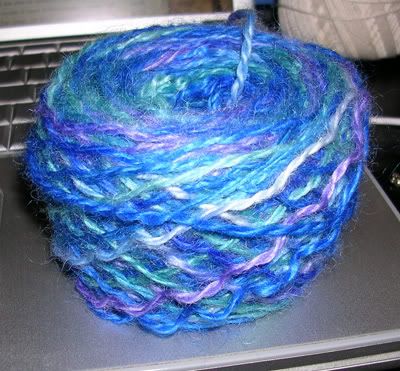 I've already re-cast on in the next size up. What I didn't realize was that the chevrons would pull in so much. This would have been the right count for a stockinette sock I think. I'm planning on taking these to Santa Barbara for the massive amounts of driving over the weekend, so I should have socks soon.
Thanks so much secret pal. Even though it didn't fit, it was a blast to knit. Now I get to knit 3 socks with this yummy yarn. I think I got the best pal possible, she (? I'm assuming here) is obviously putting a lot of effort into getting me things she knows I'd like, and I really appriciate the effort.
I leave you all with a small law student revelation:
You know the case you're reading is going to be great when you see the phrase "defendant's nephew/boyfriend" in the opening paragraph. I was not let down.
July 24, 2005
Woo!
I got into Knitty!

I also got a GREAT package from my secret pal. Hopefully I'll get daylight pictures tomorrow. She sent me a sock kit, and in one day I'm past the heel!

July 18, 2005
back at it
I made it back to the gym tonight, after a long break. It felt good to go for my jog and lift some weights. I've temporarily solved the sports bra problem by wearing two at a time. If I work out at least 3 times this week, I'll order the new good one. Tomorrow I'm going to try a spinning class, so long as I manage to get to work early enough to make it home in time for a 6pm class. I've never done spinning before (the kind on the bike), but it seems like a very effient way to work out and I am all about effiency.

As far as knitting goes, not much to report there. I've gotten about 8" into the mini-clap, and like how it's turning out. It's going to get boring, I can tell, but any scarf would, so I'll just have to suck it up and finish. It's pretty doubtfull that it will actually be done before she leaves for NY, but I can mail it to her.
I just rounded the heel in the Koigu sock, and don't have all that much yarn left so it will be done soon. The blog will probably get very boring in a week or so because I'll be working on the mates to the mom sock, Koigu sock, and Nordic Mitten. I'll try and throw something new in just to mix it up. I have an idea stewing for a picot edged, knit in the round, tank with a sweetheart neckline. I think Jenny's yarn is going to be repurposed for that, as I'm not loving it on the 7s, the fabric was much nicer on 6s.

I just downloaded the new version of ITunes, and it has a Podcast aggregator build it. Now it will be even easier to keep up with KnitCast.

July 16, 2005
Half a FO
The finished mitten has been blocked and I have pictures. It's not completely dry yet, the double thickness of wool is taking a while to dry, but the fit is much better after blocking. I should cast on for the second tonight, to avoid Second Mitten Syndrome, which probably rivals only Second Sock Syndrome in its prevalance.
I took before and after blocking pictures, and the magic of blocking has not failed me.
Palm-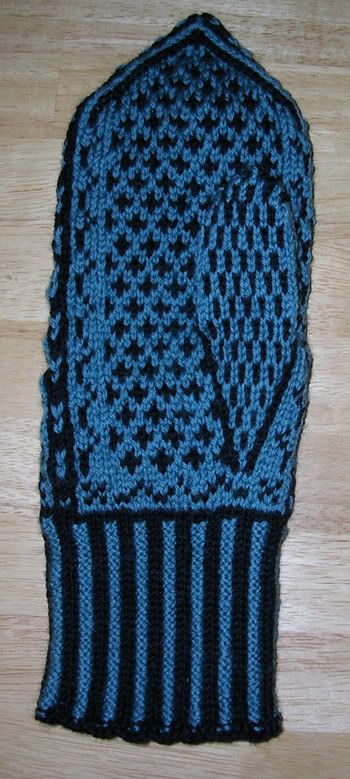 Before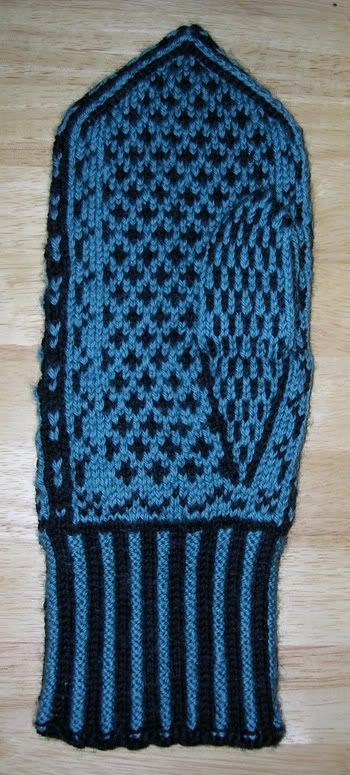 After
Back of Hand -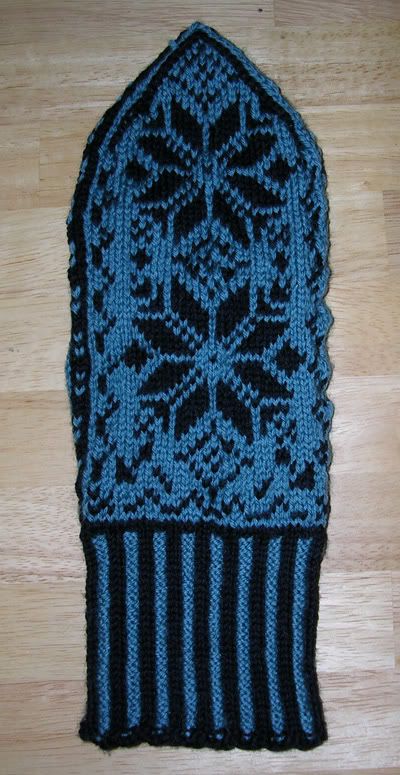 Before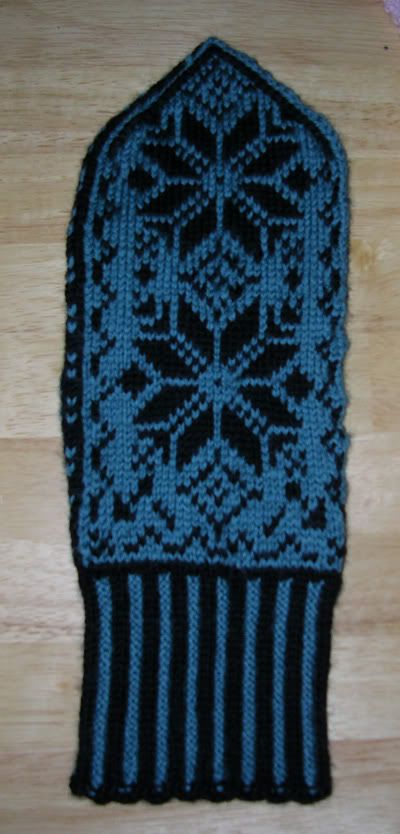 After
I also started the heel on the Koigu socks last night waiting for Harry Potter and am about halfway through. Thanks Kris for the recommendation for the Anne. I started a mini-clap, but if that doesn't work out, I'll try the pooling scarf next.
Finished
Saturday, June 16, 5:52am

(edited to add: with Harry Potter and the Half Blood Prince. I really want to talk about it, but will refrain until y'all have read it.)

July 14, 2005
We have mitten!
I finished the mitten last night right before bed, and blocked it when I got home from work today. Hopefully it will be dry by tomorrow for pictures! Most of the unevenness is gone, and it looks much better.

I also got a pretty neat email today. Someone from Artyarns wants to put a picture of my Supermerino socks up on their website. I really enjoyed knitting those socks and I'd been thinking of coming up with a sock pattern using their yarn. Something to show off the stripey-ness, maybe chevrons... it's all still in the planning stages.

One more thing, I need advice for the Leaha gift. I have a hank of Schafer Yarns Anne in a really beautiful colorway. I started the lace smoke ring, hated the pattern and ripped that out. Then I started a simpler smoke ring, but it's too boring and I know I'll never finish. I'm thinking of making a mini-Clapotis, narrower and more scarf shaped, as I only have one hank, but worry I'll boredom out of that too. It's really lovely yarn, but it doesn't want to be any of the things I've tried so far. Maybe that's because I want it to be a Flower Basket Shawl, for me. Leaha has no use for a FBS. I'm sure she'd like it, and think it was pretty, but I want to make something to keep her neck warm and voice safe in the colder weather. Maybe I'll start the mini-clap tonight and see what the yarn thinks. It's holding up surprisingly well to all the ripping, thank goodness.

July 13, 2005
Ouch!
Something was poking me under the arm all day. I came home and found this -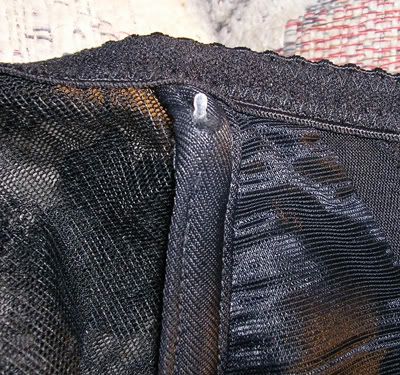 That would be a piece of metal sticking out of my bra! Not comfortable! I'll be sewing that hole shut tonight, because I need to be able to wear it still.
Back on topic, I got a picture of the Koigu socks that shows the color much better, but has weird shadows. I didn't use a flash to get better color, and the sun is a little low at 7pm for good pictures. I included the sheepy for scale. Only 1" to the heel! I'm really excited to wear these, the colors are so cheerful.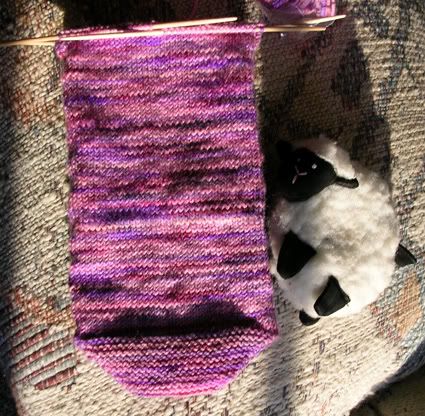 The Nordic Mittens have been picked back up. I knit 5 rows last night before bed and remembered how fun they are. Only 20 rows to go, and just 5 until they start getting shorter. I think I'll work on them now actually, and there might be half a FO up tomorrow!
July 12, 2005
This Way's So Much Faster!
Continental Knitting that is. Knitting English, I usually averaged 1" per day on the bus. Today I made it through 1.75", and it was a short waiting day too, since the bus was right there when I got off work.
I haven't had a chance to pick the Nordic Mitten back up yet. Last night was spent reading most of Harry Potter and the Goblet of Fire, and tonight we got a call to rescue a friend from the emergency room after a car accident. (She's fine, thankfully.) I knit on the Koigu sock all through Andrew driving to get her and fetch the stuff from her car and have 6" total on the foot. 2.25" until the heel!
I forgot to mention that Sunday, someone brought a huge bag of back issues of IK to give away to the Knit Together. I snagged two copies, Fall '03 (to knit the awesome Fair Ilse hat
Tipper
made ages ago and I've been coveting ever since) and Winter 00/01 (great pair of socks in there). I showed restraint, and only took mags I knew I wanted. Aparently my mother raised me right, because I was concerned about being rude if I took too many. Kris got a copy of Winter '04, with the great glove article.
Still no news from Knitty. I think that's a good sign. I've been wondering how long it takes them to sort through everybody and toss out the obvious "no"s. It's making my impatient ass crazy.
July 11, 2005
More Socks
I managed to track down both the battery charger and rechargeable batteries at the same time, so once again I have pictures.
First, a finished sock -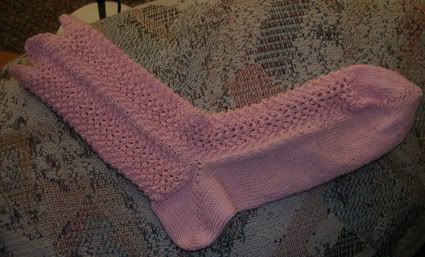 Feather and Fan sock, made up by me, in Brown Sheep Wildfoote. I'm glad this yarn gets softer with wash, because it was downright rough to knit with. I used Addi Turbos, because it was so sticky. Now I've just got to get it's mate done by x-mas for mom.
Not one for monogamy, I started this last night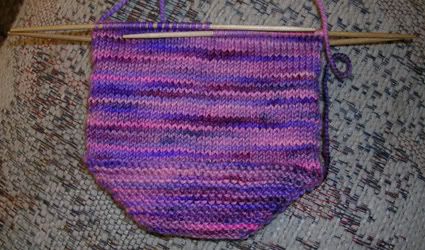 It's Koigu (yum!), colorway P837, a little lighter and pinker in person. I'm trying a new toe/heel, the Lucy Neatby short-row garter stitch heel. It instructs you to wrap when you turn, but to not pick up the wrap. I'm confused as to why I need to wrap if I'm not going to pick it up, unless it's to help me see when it's time to turn without counting. Anyway, I like it, and it's super easy, just straight knitting, with no k3togs or p3tog tbl like the YO heel and toe. These socks are serving the joint purpose of getting me more up to speed with Continental Style knitting and keeping me entertained on the bus.
Speaking of the bus, I had two crazy person run-ins today. Crazy person #1 wanted me to make a phonecall for him using his phonecard. I declined, and he called me a dick. I decided not to push things by asking why he couldn't make the call himself. Crazy person #2 got on my bad side by sitting directly up-wind of me and smoking. He was an excellent conversationalist, as I'll illustrate here.
CP: "what's that?" (gestures towards sock)
me: "a sock"
CP: "what kind?"
me: "a normal sock"
CP: "you mean for your foot?"
me: "um, yeah" (eye roll)
CP: "mumbles something vaguely obsene"
me: "i don't understand your question"
CP: (wanders off)
This should teach me, for about the 900th time, not to talk to crazy people, even if they talk to me. All and all, they were both better than the guy with the knife last week. That freaked me out.
July 10, 2005
The Days are Just Packed*
Thanks to everyone for their kind words about my mittens. I guess I'm my own worst critic. Things have gotten very busy around here, with a housewarming party on Friday and a Bachelorette Party for Kat last night. My camera batteries died at the party, so pictures will have to wait, but I finished up mom sock #1 at the Balboa Park knit together yesterday afternoon. I think it looks great and will cast on for its mate today.

The Knit Together was fun (and crowded) and it was nice to have more time to visit with Christine and see Tania, Heather, and Kris and meet a bunch of new knitters (new to me, not new to knitting). I got a little sun burnt, and I was only in the sun for 40 minutes or so. I'm still deciding whether I'll drive to Clairemont on Thursday for knitting. Heather and I are trying to get ahold of Zoya and if I hear anyone else is planning on making it there I'll probably go.

I really want to cast on another pair of socks, maybe in purple Koigu, to just knit plain on the bus and walking to work, but if I do that I'll never get the mom socks done. We all know what kind of self restraint I have though, so they'll probably be going by the end of the week. My knitting productivity will probably be low for the next few weeks. I just realized the first weekend that I don't have solid plans for is the 2nd week of August! Until then I have wedding stuff for both Kat and Tammy, and goodbye parties for Leaha and Rach. It will be fun, but I'm looking forward to the chance to just unwind.

*shiney gold star to whoever recognizes where this title is from first.

July 07, 2005
Mitten Progress
I missed a day and a half of work this week with the stomach flu. This ment I got to spend the time drinking gatorade, watching Law and Order, and knitting these: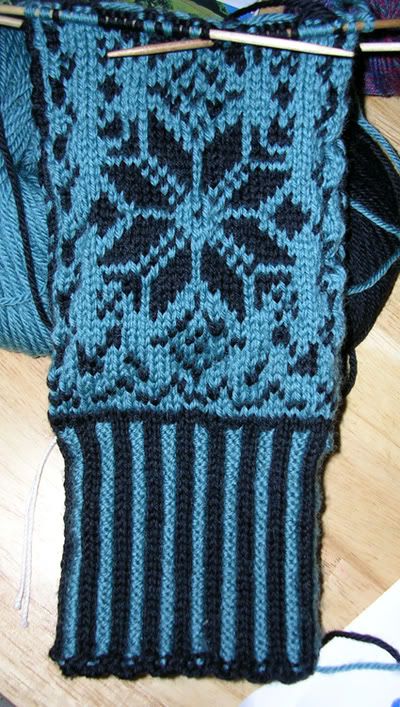 I'm over halfway through the hand now, and love how they're turning out. In a couple more rows I'll start decreasing and the rows will really start to fly by.
I'm a little concerned about the puckering, which you can see in this close up (I love macro mode - and I actually managed an in focus shot)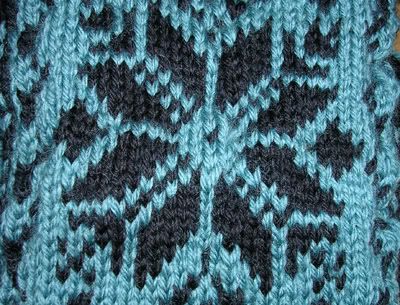 Once I finish this mitten I'll block it and see what happens. If it doesn't work out, I'll rip and start over, no huge deal I guess.
I also made progress on the mom sock and am working on the toe. They haven't seen much work lately as I got a new purse that doesn't have room for both my shoes and knitting. I'm trying to come up with ways to remedy this.
New Harry Potter in 9 days! I'm still on track to re-read the first 5 by the 16th. I read 3/4 of PoA yesterday and will probably finish it tonight. I think that one is still my favorite.
July 04, 2005
Fair Isle Addiction
The Nordic Mittens are coming along great. Here are some quick pictures before I head to a BBQ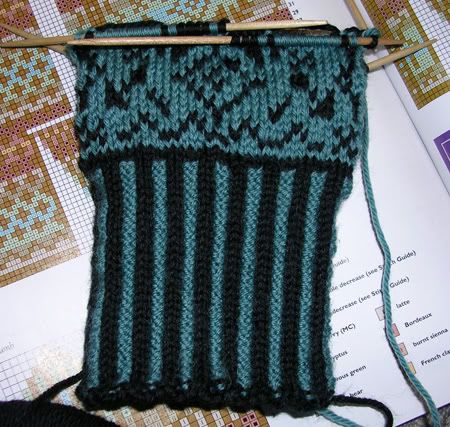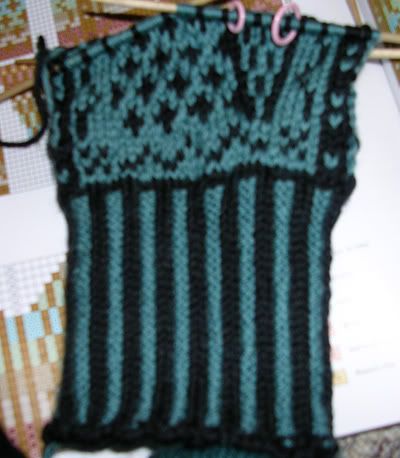 This is about 20 rows of 75 into the mitten.
July 02, 2005
New Skills
Last night I decided to learn to knit continental style and norwegian purl because I was working on something in seed stitch. Once I got used to having the yarn in my right hand (yep, I'm still knitting lefty, that cannot be changed) it went much faster. Not needing to move the yarn to the front to purl will make seed stitch and 1x1 ribbing much less painful.
I'd been meaning to learn both these techniques in order to start my first colorwork project. I couldn't keep myself from casting on around midnight last night, and now I have this: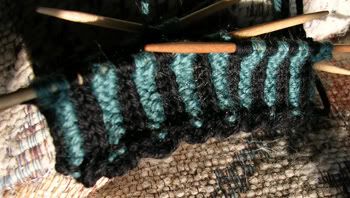 The pattern is from last winter's IK, the Nordic Mittens. I decided to go with only two colors, instead of the rainbow effect in the original. I'm about 1/3 through the cuff and really looking forward to the colorwork once I get to the chart.
I've been trying to justify how these fit into my monthly goals posted yesterday, and the only way they do is if I give these away for Christmas. I don't know about that, but how often are mittens really necessary in SD anyway?
I also sent in my Knitty submission Thursday night. It's been over 24hrs and I haven't heard a no yet, so I'm optimistic.
July 01, 2005
First of the month round-up
Goals from last month:
1. Finish Falling Leaves in time for submission - DONE
2. Finish Shapely Tank - nope, don't know when I'll get this done
3. Finish Charley - DONE
4. Keep up with mystery shawl - decided the mystery wasn't for me.
5. Start FBS - DONE
6. Start Jenny - DONE
7. Work on clogs - not done
8. Only purchase yarn for x-mas gifts and secret pal. - DONE
9. Block the finished pieces of York and Ribby and do at least one seam on each. - nope

I also started socks for my mom and a going away present for Leaha

Goals for this month:
1. Finish mom socks
2. Finish Leaha's gift by the 23rd
3. Finish FBS
4. Figure out something to do with grey lace weight merino
5. Work on one other Christmas present
6. Finish Jenny sleeve
7. Keep amount of yarn the same or lower