June 27, 2005
Thank you Secret Pal! (and IK review)
I got a lovely package from my Secret Pal today -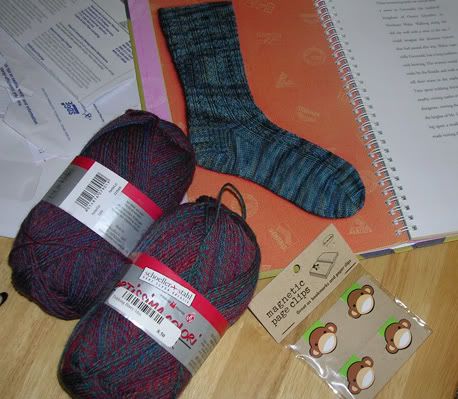 She sent me
Knitting on the Road
by Nancy Bush! I have been coveting this book for ages, thank you so much! In the picture it is open to the first pair I'm going to knit, as soon as I finish the mom socks. She also sent 2 balls of Schoeller Fortissima Colori, a sock yarn I haven't used before in a great multi colored shade, and some monkey bookmarks! I love monkeys!
I also got the new IK in the mail today. Here's my take on it, in page order of the magazine.
- I liked the article on knitting in the theater. I loved stealing spare knitting moments when I did tech.
-
Greek Pullover
- it looks cute, but the models pose worries me. it is also very much not for my body type.
-
Chenille Cutaway Jacket
- eh, not a fan, and the photography is horrid
-
Cable Cascade Pullover
- reminds me of a sweater dress I had in the 80s, in a bad way.
-
Fur Trimmed Wrap
- what I consider and appropriate use of eyelash. I wouldn't make it, but it's cute.
-
Essential Indulgence
- really bad shape
-
Union Square Market Pullover
- love the sleeves, not sure about the neckline
-
Drop Stitch Cardigan
- I think it would look really nice in a solid color
-
Weekend Getaway Satchel
- expensive and non-functional
-
Veste Everest
- I will make this, probably in Jaeger Luxury Tweed or Rowan Felted Tweed. I love that it's in DK weight, much less bulky, and the splitting cable detail at the v-neck. It looks like it could use lengthening, but other than that, a winner!
-
Felted Floral Capelet
- completely silly and I'd never knit it, but I really like how it looks.
-
Textured Coat
- worst pattern in the issue
-
Blissful Jacket
- looks like Debbie Bliss finally got a clue about sizing.
-
Vintage Inspired Jacket
- ick. double ick for the stripe up the underarm (pictured on pg 90).
- I love the ad in the bottom left corner of pg 98! It might be time to learn colorwork. (
Trees of Life
- I also like the vest on that page)
-
Fair Isle Hoodie and Cardigan
- I like the cardigan. I'll have to keep this in mind for the future.
-
Bulky Brioche Raglan
- eh. wasn't there a broche sweater just like this one a couple issues back?
-
Cabled Shrug
- looks cozy, but I prefer my blankets without cuffs.
-
Fair Isle Skirt
- surprisingly, I really like this one, maybe even enough to knit it. The model also reminds me of Evey.
-
Braided Blues
- really bad shape
-
Suede Vest
- looks like a maternity top. redhaired model, why do they hate you so?
- Poncho Loco - The poncho is over. (long live the ponchkini)
-
Canteen Bag
- boring
-
Brioche Helment Hat
- meh
-
Rib and Cable Socks
- Yay, socks! And Nancy Bush is coming out with another sock book!
Comments:
redhaired model, why do they hate you so?
That made me laugh right out loud here in my cube. It's funny because it's true! She always gets put in the most unflattering crap they have to offer!
Post a Comment
<< Home