June 04, 2005
Return of the camera
Andrew found my camera cord, it was attached to
his
computer. He'd put his away in the box when we moved and then saw mine sitting out and put it away too. Without further ado, the Baby Cashmere socks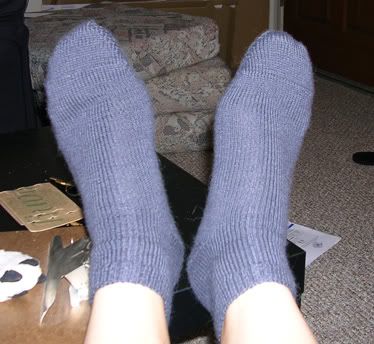 Yarn: Elann.com Baby Cashmere, an alpaca/wool/cashmere blend. This yarn was super yummy and the finished socks are really soft. I used just over two balls. Someone with smaller feet, maybe a womens 7, could probably get a pair of anklets out of two balls.
Needles: Addi Turbo US 1 40" circs - Magic loop, one sock at a time.
Pattern: adaptation of toe up crew socks from
Simple Socks, Plain and Fancy
, my first use of YO short rows. This is my new favorite short row method, I'll never fuss with picking up wraps again.
Andrew and I went to a Padres game tonight. Danielle gave us the tickets and they were great seats! We were on the 3rd base line only 19 rows back. The Padres got their ass kicked (I'm not surprised), but I had a nice time checking out the new stadium and knitting away at falling leaves. Yup, I was knitting at a ball game. Ya'll should have heard the girl behind me, you'd have thought I was torturing a puppy the way she was carrying on. Her hubby pointed out it was a "Padres sock", but that didn't seem to help. (it isn't really a Padres sock, but it does have some purple and orange, their old colors) I seriously cannot watch sports without some knitting in my hands, I just get too worked up. Ask anyone who's seen me during college bball season, I turn into a yeller.
Tomorrow is Knit 'n Sip down at the Whistle Stop. Anyone going? Kris? Krys? Hope to see some SD knitters there, I'll either be working on Falling Leaves or Charley (who hasn't been touched since the move)