June 03, 2005
Mystery Stole and cute story
The first clue for they mystery stole came out today. I cast on while I was waiting to do a walk through in my old apartment and finished up this afternoon. The first step was pretty easy, I hope the rest of the stole has more to it or I'm going to get bored with it. I did finally manage to crochet a chain for a provisional cast on properly. Krys pointed out that most people hold the yarn in their opposite hand when they crochet. I'd always held it in the same hand. Switching made it a lot easier.
I also figured out that I need to knit 2 repeats of Falling Leaves every day to finish in time. Yesterday I got through the toe and two repeats and I've done one so far today.
Now my cute story. I knit my BF some socks last fall.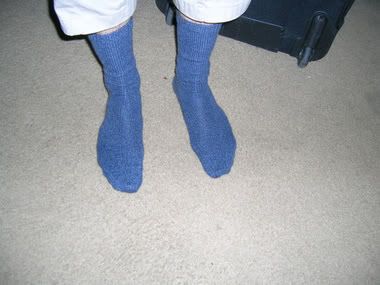 He didn't wear them much, so I was worried he didn't really like them. I got a nice surprise last week when he wore them to the first day of his new job for luck. I'm really happy to find out he likes them, he may just get another pair for x-mas.