June 26, 2005
More socks
I started these for my mom on Friday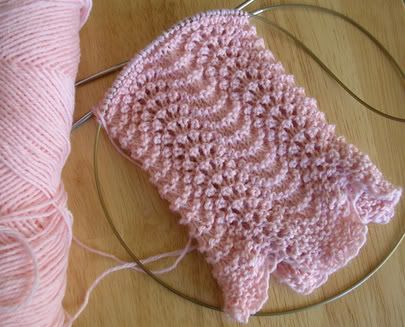 The yarn is Brown Sheep Wildefoote and the pattern is a 72 stitch feather and fan. I'm just kind of winging it with the pattern and stitch count and will probably do a short row heel and toe.
The other socks are pretty much done. I did a grafted bind off, where you have to separate the knit stitches from the purl stitches. Once I got the second half of the stitches separated Thursday night I decided to cast on for the pink socks so I'd have something to work on during my bus and car rides over the next two days. I'll finish grafting the top of the other sock tonight, block and then photograph sometime this week.
My other plan for tonight is to try a picot cast on for Leaha's present, I think that will work really nicely. Andrew and I are going for Thai food in a couple hours and watching some Arrested Development until bedtime, so I'll get some good knitting time in.
In non-knitting news, Kathy's bridal shower was a success. I think everyone had a good time and Kathy enjoyed herself and got some nice presents.