June 22, 2005
Lack of project fidelity
So I started something new yesterday.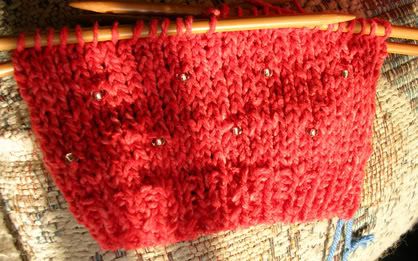 It's the first sleeve to the Jenny sweater from Rowan 37. I'm making the sleeve in the round because I really don't like seaming sleeves. The picture is a little wonky. The flash washed out the beads too much so I got this pic in natural light, but the bars over our window leave a shadow. I knit the sock on the bus today and no one talked to me! Yay! I was trying to give off really good Fuck-Off vibes and it must have worked.
My first day on the job was good - everyone is really nice and I think I'll like it there. If you want more info, talk to me personally, as I won't be posting any job details (obviously).
One more thing - there are a lot more icky people on the bus at 6pm than at 7am. That is all.
Edited to add: I was convinced I'd spelled fidelity wrong so I hit edit before I even looked it up. Apparently I'm not as bad a speller as I think I am.
Comments:
Just found your blog... great work. I love the sleeve. I also love the part where you talked about bars over your windows... where do you live? hehehe ;-)
Eeek--I hear ya about the early morning bus commute. What a difference an hour makes... But the sleeve looks great! I like the beads, very subtle.
Heidi
http://absintheknits.typepad.com
Post a Comment
<< Home