June 20, 2005
Charley's Finished
My first complete adult sized sweater!
I finished the knitting and seaming Saturday night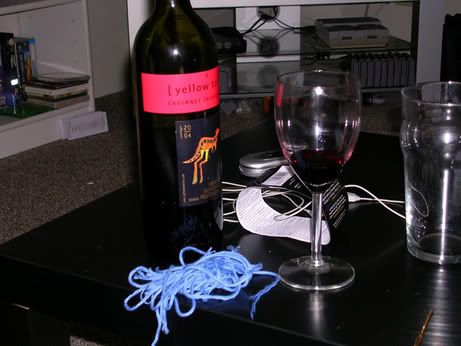 The carnage. Not pictured - three episodes of Law and Order:SVU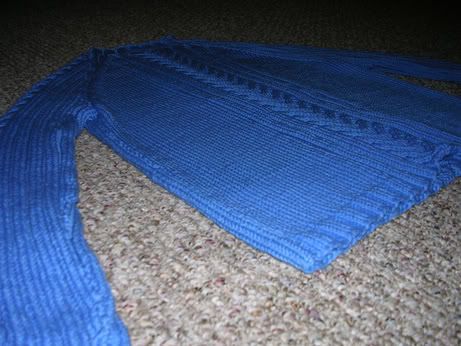 This picture is the only decent shot I could get of the cables in low light. Any shot from above washed out everything.
Sunday I headed to the Whistlestop and Heather snapped this picture for me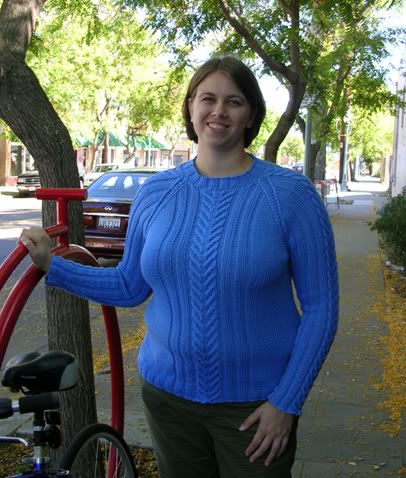 I'm really happy with the finished product. I have a nice soft sweater that fits me.
Project stats:
Yarn - Lion Brand Cotton Ease. I used just over 5 skeins. If I'd been able to find my scraps from the front I might have been able to finish with 5 total.
Pattern - Charley from Rowan Mag #37
Needles - US 7 Addi Turbos for edge ribbing, US 8 Clover Bamboo for body and sleeves, and US 6 Addi Turbos for neckline (couldn't find the 7's)
Started - April 26th
Finished - June 18th. This is what happens when you can't commit to one project, everything takes forever.
Techniques learned - cabling without a cable needle! This is so much easier!
Next on the needles:
I cast on for sock 2 yesterday and got through the toe and half the foot. My goal is to finish it before Andrew gets home Friday. I start my new job on Wed though, so we'll see how far I get. After the sock I'm starting Leaha's going away present and finishing up my FBS. I've made it through the first full repeat in the Mystery Stole and I don't like it. Time to rip and pick a new project for the laceweight merino. High on the list is a laceweight FBS (knitting extra repeats until it's large enough) or one of the Fibertrends Shawls. I really want to make Fiddlestick's Peacock Feathers Shawl, but the color is all wrong so it will have to wait until I'm buying yarn again.
Comments:
Yay, the sweater turned out well!
And as far as the Mystery Stole goes, I totally hear you... I might not keep going either. Like I said in my blog, I'll probably give it a full repeat before I make a final decision, but I'm already contemplating other uses for the yarn, the Fiddlesticks shawls look so much more fun.
Post a Comment
<< Home