June 28, 2005
We have heel
The heel on the mom sock has been turned! My sock speed has really increased this month.

Speaking of socks, Krys, want to do photoshoot Wed or Thurs? If we're feeling ambitious we can head down to the park, otherwise we can find a neat spot closer to here.

June 27, 2005
Thank you Secret Pal! (and IK review)
I got a lovely package from my Secret Pal today -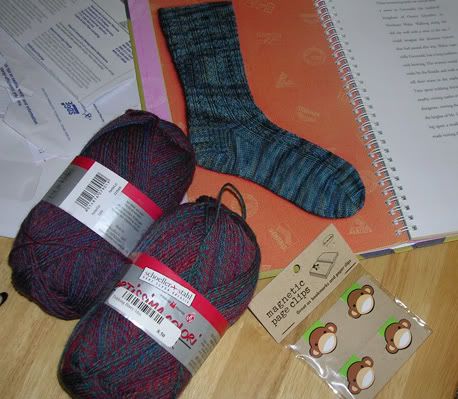 She sent me
Knitting on the Road
by Nancy Bush! I have been coveting this book for ages, thank you so much! In the picture it is open to the first pair I'm going to knit, as soon as I finish the mom socks. She also sent 2 balls of Schoeller Fortissima Colori, a sock yarn I haven't used before in a great multi colored shade, and some monkey bookmarks! I love monkeys!
I also got the new IK in the mail today. Here's my take on it, in page order of the magazine.
- I liked the article on knitting in the theater. I loved stealing spare knitting moments when I did tech.
-
Greek Pullover
- it looks cute, but the models pose worries me. it is also very much not for my body type.
-
Chenille Cutaway Jacket
- eh, not a fan, and the photography is horrid
-
Cable Cascade Pullover
- reminds me of a sweater dress I had in the 80s, in a bad way.
-
Fur Trimmed Wrap
- what I consider and appropriate use of eyelash. I wouldn't make it, but it's cute.
-
Essential Indulgence
- really bad shape
-
Union Square Market Pullover
- love the sleeves, not sure about the neckline
-
Drop Stitch Cardigan
- I think it would look really nice in a solid color
-
Weekend Getaway Satchel
- expensive and non-functional
-
Veste Everest
- I will make this, probably in Jaeger Luxury Tweed or Rowan Felted Tweed. I love that it's in DK weight, much less bulky, and the splitting cable detail at the v-neck. It looks like it could use lengthening, but other than that, a winner!
-
Felted Floral Capelet
- completely silly and I'd never knit it, but I really like how it looks.
-
Textured Coat
- worst pattern in the issue
-
Blissful Jacket
- looks like Debbie Bliss finally got a clue about sizing.
-
Vintage Inspired Jacket
- ick. double ick for the stripe up the underarm (pictured on pg 90).
- I love the ad in the bottom left corner of pg 98! It might be time to learn colorwork. (
Trees of Life
- I also like the vest on that page)
-
Fair Isle Hoodie and Cardigan
- I like the cardigan. I'll have to keep this in mind for the future.
-
Bulky Brioche Raglan
- eh. wasn't there a broche sweater just like this one a couple issues back?
-
Cabled Shrug
- looks cozy, but I prefer my blankets without cuffs.
-
Fair Isle Skirt
- surprisingly, I really like this one, maybe even enough to knit it. The model also reminds me of Evey.
-
Braided Blues
- really bad shape
-
Suede Vest
- looks like a maternity top. redhaired model, why do they hate you so?
- Poncho Loco - The poncho is over. (long live the ponchkini)
-
Canteen Bag
- boring
-
Brioche Helment Hat
- meh
-
Rib and Cable Socks
- Yay, socks! And Nancy Bush is coming out with another sock book!
June 26, 2005
More socks
I started these for my mom on Friday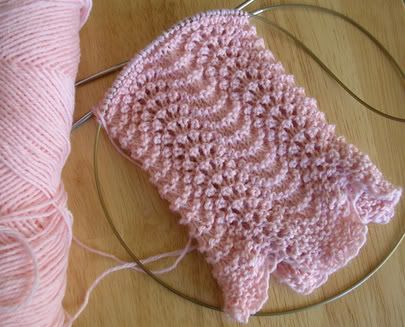 The yarn is Brown Sheep Wildefoote and the pattern is a 72 stitch feather and fan. I'm just kind of winging it with the pattern and stitch count and will probably do a short row heel and toe.
The other socks are pretty much done. I did a grafted bind off, where you have to separate the knit stitches from the purl stitches. Once I got the second half of the stitches separated Thursday night I decided to cast on for the pink socks so I'd have something to work on during my bus and car rides over the next two days. I'll finish grafting the top of the other sock tonight, block and then photograph sometime this week.
My other plan for tonight is to try a picot cast on for Leaha's present, I think that will work really nicely. Andrew and I are going for Thai food in a couple hours and watching some Arrested Development until bedtime, so I'll get some good knitting time in.
In non-knitting news, Kathy's bridal shower was a success. I think everyone had a good time and Kathy enjoyed herself and got some nice presents.
June 23, 2005
One hour til bedtime and one inch of ribbing to go
The sock will be finished tonight.

June 22, 2005
Lack of project fidelity
So I started something new yesterday.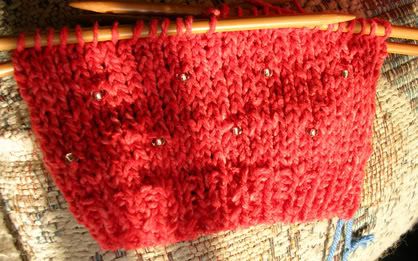 It's the first sleeve to the Jenny sweater from Rowan 37. I'm making the sleeve in the round because I really don't like seaming sleeves. The picture is a little wonky. The flash washed out the beads too much so I got this pic in natural light, but the bars over our window leave a shadow. I knit the sock on the bus today and no one talked to me! Yay! I was trying to give off really good Fuck-Off vibes and it must have worked.
My first day on the job was good - everyone is really nice and I think I'll like it there. If you want more info, talk to me personally, as I won't be posting any job details (obviously).
One more thing - there are a lot more icky people on the bus at 6pm than at 7am. That is all.
Edited to add: I was convinced I'd spelled fidelity wrong so I hit edit before I even looked it up. Apparently I'm not as bad a speller as I think I am.
June 21, 2005
Bloglines Hates Me
It's not noticing my posts for some reason. Poop.

In happier news, I have an almost finished pair of socks! I can't believe how quickly this sock is going. I just cast on for the toe on Sunday and I'm already past the heel today. My goal of finishing before Andrew gets back from Sweden should be no problem. I'm going to start taking the bus to work, so socks will be a great project for waiting for the bus (and also lunchtime at work). Next up in the socks list are Mom's x-mas socks. They're going to be feather and fan in pink Brown Sheep Wildefoote. I've got the numbers all worked out, but am still figuring what to do at the top to curtail rolling. Feather and fan generally goes - Row 1: knit, Row 2: knit, Row 3: pattern, and Row 4: purl. I think I'll need to make one of the first two rows purl for the first inch or so of the sock. I'm leaning towards row 2 unless anyone has a better suggestion. Hopefully I'll start these by Friday and be able to take them in the car for the drive up for Kat's shower. Leaha's gift is going to be the at home project once the current socks are done, but I can't really take that on a drive with her.

I looked over my goals for this month and I'm doing pretty well so far. I still want to start my Jenny cardigan, but I can't find my size 7 Addi's anywhere. I'm thinking I might have to buy a new set, but if so I'll get 36" instead of 24" in case the old ones turn up. I've figured out how to modify the pattern to make it pretty much seamless, so maybe I'll start with a sleeve on DPNs to get going over the weekend.

June 20, 2005
Charley's Finished
My first complete adult sized sweater!
I finished the knitting and seaming Saturday night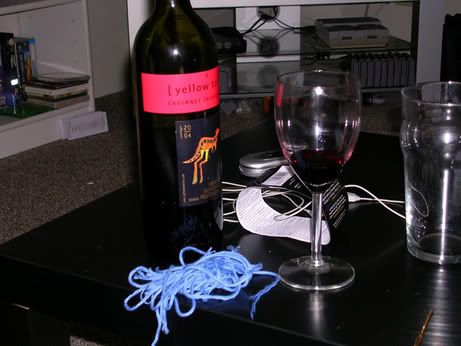 The carnage. Not pictured - three episodes of Law and Order:SVU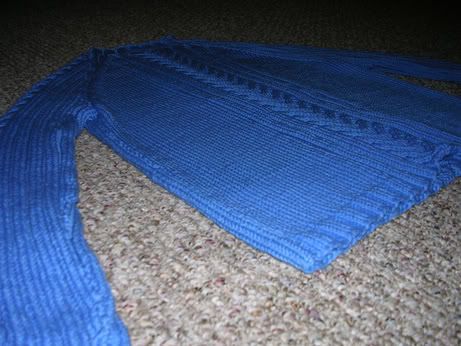 This picture is the only decent shot I could get of the cables in low light. Any shot from above washed out everything.
Sunday I headed to the Whistlestop and Heather snapped this picture for me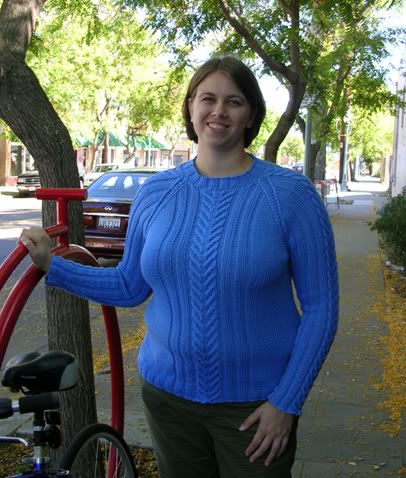 I'm really happy with the finished product. I have a nice soft sweater that fits me.
Project stats:
Yarn - Lion Brand Cotton Ease. I used just over 5 skeins. If I'd been able to find my scraps from the front I might have been able to finish with 5 total.
Pattern - Charley from Rowan Mag #37
Needles - US 7 Addi Turbos for edge ribbing, US 8 Clover Bamboo for body and sleeves, and US 6 Addi Turbos for neckline (couldn't find the 7's)
Started - April 26th
Finished - June 18th. This is what happens when you can't commit to one project, everything takes forever.
Techniques learned - cabling without a cable needle! This is so much easier!
Next on the needles:
I cast on for sock 2 yesterday and got through the toe and half the foot. My goal is to finish it before Andrew gets home Friday. I start my new job on Wed though, so we'll see how far I get. After the sock I'm starting Leaha's going away present and finishing up my FBS. I've made it through the first full repeat in the Mystery Stole and I don't like it. Time to rip and pick a new project for the laceweight merino. High on the list is a laceweight FBS (knitting extra repeats until it's large enough) or one of the Fibertrends Shawls. I really want to make Fiddlestick's Peacock Feathers Shawl, but the color is all wrong so it will have to wait until I'm buying yarn again.
June 16, 2005
So close!
I'm so close to finishing the sleeves for Charley! Hopefully I'll have finished pictures of the sleeves tomorrow and a whole sweater by the weekend.

Last night at Claire De Lunes was great - the Ponchkini was invented (copyright Jessimuhka and Inky). We'll be pitching this genius idea to Knitters sometime soon. Hope to see more of you guys on Sunday at Whistlestop.

June 14, 2005
Back and Burnt
I had a lovely weekend away and got very sun burnt. Kate's graduation was great and dinner was fantastic. I made good progress on Charley's sleeves during all the plane and car rides, only 3 more increase repeats and about 15 cm to the armhole bind off and raglan shaping. I'll probably take the sleeves with me to Claire De Lunes tomorrow, as everything else I'm working on is lace and therefore not super portable.
In lace news, I suppose I'm having a "Summer of Lace" ala
The Wendy
but I think I'll refrain from joining another super chatty Yahoo group. My FBS is nearing completion. I finished 2 lower basket repeats yesterday during an
America's Next Top Model
marathon on VH1 (wonderful trash, by the way) and only have one and a half to go before moving on to the edging. I'm still on my first hank of the yarn, so I'll probably have to come up with something else to make with the rest of it. Maybe a nice feather and fan scarf for a family member. The new step for the Mystery Stole is much better than the previous ones. I'm not sure what I think of the pattern yet, but at least it's a little more interesting to knit.
I feel like I'm doing a pretty good job of working my way through my stash and not buying more yarn. I did pick something up for Leaha's going away present since I just didn't have anything appropriate. It's very nice and I hope to start it next month. I went to
Yarn!
in Alameda (ok, most boring name ever) and didn't buy anything. They did have a really nice selection, but man was it pricey. The kicker for me was that they had several yarns that had been long discontinued still at full price - yarns even Knitting in La Jolla has discounted now. I was sorely tempted by some Mission Falls 1824 to make another pair of worsted weight socks, but I can get that down here so I put it back.
Today I have to run back to La Jolla and pick up more stationary for Kat's bridal shower and then mail out the invites we have done. My other plans for the day are watching Law and Order and knitting either the Mystery Stole or FBS.
June 10, 2005
off to Santa Cruz
I'm heading out tonight to see one of my sisters graduate from college! Yay, Congratulations Kate!

Andrew and I are flying up and then spliting to spend the weekend with our families. His sister has a dance recital. He's leaving straight from SF for a two week business trip to Sweden, so I'm on my own here for a couple weeks. I'm planning lots of knitting and a couple girls nights.

For travel knitting, I'm deciding between taking the Charley sleeves or a sock. It will probably be the sleeves. I was going to take my mystery stole, but the clue this week took about 45 min to knit. I finally dropped down to no mail for that list, too many whiners and WAY too chatty. There have been over 100 messages so far today, gah. The knitting has been fun though, this last step was much more involved and interesting. Hopefully the rest of the stole will stay this interesting.

I'll be back Monday morning and update on the weekend.

June 06, 2005
Right on schedule
Falling leaves is coming along nicely. I actually got to a try on point today and I love how it fits! I should actually be done in plenty of time if I keep up this pace. Now I will hopefully have enough time to head down to Balboa Park and get some good pictures of them. I'll probably have to enlist the help of friends who are better photographers than I am, since I'm pretty bad at framing shots.
I got another increase section done on Charley today. Like a genius, I took the sleeves but not the pattern to the Whistle Stop yesterday. Oh, and Inky, I'm sorry I didn't say hi. I recognized you and was like "I'll got over in a minute", but the next time I looked up you had left. =( I don't know if you know what I look like, as there hasn't been a picture of my face on this blog at all recently.
Tomorrow I need to get to the post office and mail out the first gift for my secret pal. I found a book she'd mentioned wanting, and need to head to La Jolla tomorrow for Kat wedding stuff, so I'll probably pop into KinLJ and pick up another little treat before the post office.
I also decided that Leaha needs a going away to NY present. She's getting
this
. Leaha, if you read this, don't click. I'll check out yarn at KinLJ. I've also picked out my next lace project (so I like to think WAY ahead of the game), the
Peacock Feathers Shawl
, probably in Knitpicks Shimmer (they have a great turquoise colorway).
Edited to add: I forgot to mention I looked at Loop-d-Loop at Boarders today and Liked it a lot more than I thought I would. The photography is very good at highlighting the knitting (I'm looking at you Rowan) and for the most part, the designs are different without being completely insane.
June 04, 2005
Return of the camera
Andrew found my camera cord, it was attached to
his
computer. He'd put his away in the box when we moved and then saw mine sitting out and put it away too. Without further ado, the Baby Cashmere socks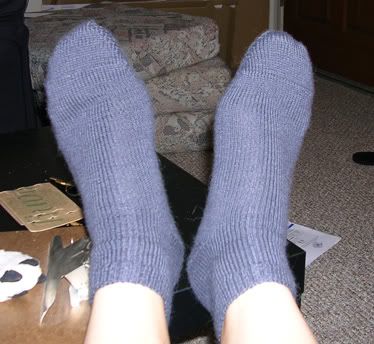 Yarn: Elann.com Baby Cashmere, an alpaca/wool/cashmere blend. This yarn was super yummy and the finished socks are really soft. I used just over two balls. Someone with smaller feet, maybe a womens 7, could probably get a pair of anklets out of two balls.
Needles: Addi Turbo US 1 40" circs - Magic loop, one sock at a time.
Pattern: adaptation of toe up crew socks from
Simple Socks, Plain and Fancy
, my first use of YO short rows. This is my new favorite short row method, I'll never fuss with picking up wraps again.
Andrew and I went to a Padres game tonight. Danielle gave us the tickets and they were great seats! We were on the 3rd base line only 19 rows back. The Padres got their ass kicked (I'm not surprised), but I had a nice time checking out the new stadium and knitting away at falling leaves. Yup, I was knitting at a ball game. Ya'll should have heard the girl behind me, you'd have thought I was torturing a puppy the way she was carrying on. Her hubby pointed out it was a "Padres sock", but that didn't seem to help. (it isn't really a Padres sock, but it does have some purple and orange, their old colors) I seriously cannot watch sports without some knitting in my hands, I just get too worked up. Ask anyone who's seen me during college bball season, I turn into a yeller.
Tomorrow is Knit 'n Sip down at the Whistle Stop. Anyone going? Kris? Krys? Hope to see some SD knitters there, I'll either be working on Falling Leaves or Charley (who hasn't been touched since the move)
June 03, 2005
Mystery Stole and cute story
The first clue for they mystery stole came out today. I cast on while I was waiting to do a walk through in my old apartment and finished up this afternoon. The first step was pretty easy, I hope the rest of the stole has more to it or I'm going to get bored with it. I did finally manage to crochet a chain for a provisional cast on properly. Krys pointed out that most people hold the yarn in their opposite hand when they crochet. I'd always held it in the same hand. Switching made it a lot easier.
I also figured out that I need to knit 2 repeats of Falling Leaves every day to finish in time. Yesterday I got through the toe and two repeats and I've done one so far today.
Now my cute story. I knit my BF some socks last fall.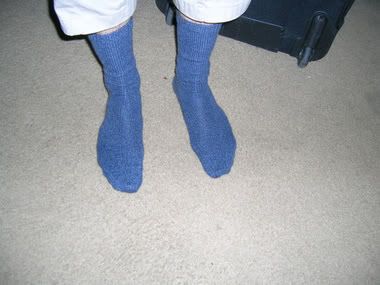 He didn't wear them much, so I was worried he didn't really like them. I got a nice surprise last week when he wore them to the first day of his new job for luck. I'm really happy to find out he likes them, he may just get another pair for x-mas.
June 02, 2005
Picture-less post
I took pictures to post today, but my camera cord hasn't resurfaced from the move yet. I finished the Cashmere socks last night and cast on for new socks. I also cast on for a Flower Basket Shawl. It's great fun and I've already completed the upper basket and 3 repeats of the lower basket.
The first clue for the mystery stole comes out tomorrow. I'm still deciding on needles. My swatch on 4s looks alright, maybe a little open, but I don't love Addi's for lace, too blunt to knit tbl. The 3s I have are bamboo and pointier, so I might go with those.

June 01, 2005
End of the month round-up
May first I posted my knitting goals for the month
here
.
I was a little over ambitious in my first time setting goals -
1. Finish York and Ribby (both of these have minimal knitting left and need sewing together) - Didn't even touch them
2. Finish Shapely Tank - knitting is finished, needs one more side seamed and seed stitch around the arms and neck
3. Finish Charley Sweater - front and back finished and sewn together, sleeves started.
4. Start Jenny - nope
5. Finish Cashmere socks -
DONE
6. Start sample Falling Leaves socks -
DONE
7. Write up Falling Leaves pattern and give to
Krys
to test knit -
DONE
8. Find and order solid green sock yarn to go with #7 -
DONE
9. Add i-cord ties to mini-sweater - nope, the left over yarn got packed and I haven't found it yet.
10. Make a decision about xmas knitting. -
DONE
, plus half a gift done
Besides this list, I also finished a pair of worsted weight socks, half a pair of Fiber Trends clogs, and a swatch for the mystery shawl.
Goals for this month:
1. Finish Falling Leaves in time for submission
2. Finish Shapely Tank
3. Finish Charley
4. Keep up with mystery shawl
5. Start FBS
6. Start Jenny
7. Work on clogs
8. Only purchase yarn for x-mas gifts and secret pal.
9. Block the finished pieces of York and Ribby and do at least one seam on each.