May 26, 2005
First Post on a new blog
I've decided to give blogger a try while I wait for my LJ subscribtion to run out. I'm faking my way through some really basic HTML right now and think I'm doing an ok job. If anything looks particularly bad, please tell me.
Here's my real update for the day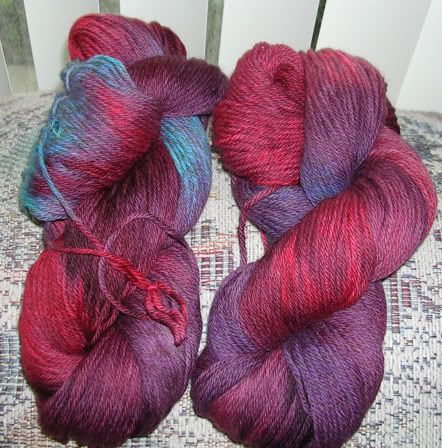 My Kool Aid experiment finally dried. The flash made the picture a little too bright, but the colors are pretty vibrant. I used Black Cherry, Grape, and Blue Raspberry. I'm pretty happy with how they turned out. The yarn is Cascade 220 Quatro in one of the natural shades. I'll be double stranding the yarn to make a felted bag. The double stranding should help mask my two very uneven dye lots.
On the knitting front I'm past the heel of the cashmere socks. I wound up not getting in as much knitting time as I expected yesterday because an old roommate was in town for the day. It was nice to see him and catch up a bit.
Comments:
Your blog looks great! :)
And I love the way your dye job did on the yarn! Awesome! Looks like it will be fun to knit up :)
Post a Comment
<< Home