May 31, 2005
Tag, I'm it.
I got tagged for one of those memes that have been going around by
Inky
. Thanks Inky, I feel all popular now =)
Here are the rules:
Pick 5 of the following and then complete the sentences. Then pass it on to 3 more of your blog friends! But no tag backs!
The Premise (pick 5):
If I could be a scientist?
If I could be a farmer?
If I could be a musician?
If I could be a doctor?
If I could be a painter?
If I could be a gardener?
If I could be a missionary?
If I could be a chef?
If I could be an architect?
If I could be a linguist?
If I could be a psychologist?
If I could be a librarian?
If I could be an athlete?
If I could be a lawyer?
If I could be an inn-keeper?
If I could be a professor?
If I could be a writer?
If I could be a llama-rider?
If I could be a bonnie pirate?
If I could be an astronaut?
If I could be a world famous blogger?
If I could be a justice on any one court in the world?
If I could be married to any current famous political figure?
If I could be a musician - I'd play the cello and fit in better with my incredibly musically talented family.
If I could be a missionary - I'd teach love and tolerance, using spirituality to unify rather than divide humanity.
If I could be a professor - I'd be a total hard ass, like Stiggy.
If I could be a llama-rider - I'd perfect ride and spin technology.
If I could be a justice on any one court in the world - I'd be on the CA Supreme Court, they have some interesting decisions facing them right now that I definitely feel should come out a certain way.
Now I have to tag some people. Hmm. Lets go with everyone named Kris who reads this, that should cover enough people.
In other news, I'm almost moved in (all our stuff is here, it's just a disaster zone), my socks are almost done, and the Bonita yarn store was a bust. Tonight I will hopefully have an update with pictures.
May 28, 2005
Lots of packing, not much knitting
I actually didn't knit a stitch yesterday. Andrew was surprised I survived. We did manage to get the kitchen and one bathroom completely backed. Megan was a great help. She's really efficient.
Today I headed over to the new place to wait for the cable/internet/phone guy with my knitting in tow. He was scheduled for any time from 1-3, so I figured I'd get in some nice quiet knitting time. Nope, he was already there when I showed up at 12:30 looking mighty impaitent. Boo. I have gotten a couple rounds done on the Cashmere socks today while taking a break after I stubbed the crap out of my toe. I thought at first it might be broken (I've broken this particular toe about 3 times previously - it's my loser toe), but it's just banged up. I stubbed it on the wheel of Andrew's luggage, which was sitting right in the middle of the doorway. Can't really say anything bad about that though, because my crap is everywhere too. I actually thought it was my luggage until I looked down.
In future knitting news, I joined a new knitalong -
Mystery Stole Along
. The premise of the group is that you're knitting a lace wrap, but you only get one chunk of the instructions at a time. I'd been looking for a new lace project for my handpaintedyarn.com merino lace, so I'm going to give this a go. It starts June 3rd if anyone else is interested in playing along.
Monday I'm trying to organize a field trip to a new LYS opening in Bonita. I don't drive that far south often (ok, ever), but I figured a new yarn store would be worth the trip.
I'll probably be MIA tomorrow, but should be back Monday night with tales of yarny goodness.
May 27, 2005
Secret Pal 5
1. Are you a yarn snob (do you prefer higher quality and/or natural fibers)? Do you avoid Red Heart and Lion Brand? Or is it all the same to you?
- Yep, I'm pretty much a yarn snob. Not expense wise (I love Cascade 220 and the Elann Highland wool), but I definately prefer to knit with natural fibers. The only craft store yarn I like was just discontinued - Lion Brand Cotton-Ease.
2. Do you spin? Crochet?
- I've just taken up spinning. I have a drop spindle and I've made some very uneven yarn. It's great fun and I hope to get the hang of it soon.
3. Do you have any allergies? (smoke, pets, fibers, perfume, etc.)
- The smell of smoke really bothers me. I'm allergic to cats and angora fiber (sadness).
4. How long have you been knitting?
- About a year and a half.
5. Do you have an Amazon or other online wish list?
- Yeah, it's a little out of control though. You can see it
here
.
6. What's your favorite scent? (for candles, bath products etc.)
- I like citrusy scents the best. I also love those fizzy bath bomb things.
7. Do you have a sweet tooth?
- Indeed. I'm trying to cut back on sugar however.
8. What other crafts or Do-It-Yourself things do you like to do?
- Spinning and Dyeing so far. I used to do a good amount of beading when I was in junior high, so maybe I'll get back into that someday.
9. What kind of music do you like? Can your computer/stereo play MP3s? (if your buddy wants to make you a CD)
- I'd describe my music tastes as picky eclectic. I like singer/songwriter, classic hip-hop (at least 10 yrs old), mid-90's alternative, plus some new stuff. I play music through my laptop or my ipod so MP3s will play.
10. What's your favorite color? Or--do you have a color family/season/palette you prefer? Any colors you just can't stand?
- My all time favorite color is blue. I generally like any jewel tones or rich saturated colors. I'm not a huge fan of pastels or neons.
11. What is your family situation? Do you have any pets?
- I live with my boyfriend, no pets.
12. What are your life dreams? (really stretching it here, I know)
- To love what I do.
13. What is/are your favorite yarn/s to knit with?
- There are a lot. I love Lorna's Laces, Opal, Cotton-Ease, Luxury Tweed, lace weight from Handpaintedyarns.com, and pretty much anything else that's merino, alpaca, or silk.
14. What fibers do you absolutely *not* like?
- Anything that's 100% acrylic and kitchen cotton.
15. What is/are your current knitting obsession/s?
- Probably socks
16. What is/are your favorite item/s to knit?
- Socks and lace
17. What are you knitting right now?
- Cabled sweater in Cotton-Ease from Rowan 37, Fiber Trends Felted Clogs, and socks
18. What do you think about ponchos?
- They're not for me.
19. Do you prefer straight or circular needles?
- Circulars, almost always.
20. Bamboo, aluminum, plastic?
- Addi Turbos for circs and Brittany Birch for DPNs and straights
21. Are you a sock knitter?
- yes
22. How did you learn to knit?
- Taught myself from books and the internet
23. How old is your oldest UFO?
- Probably Andrew's gloves, which I started around Thanksgiving.
24. What is your favorite animated character or a favorite animal/bird?
- I like sheep and monkeys
25. What is your favorite holiday?
- I'm not a big holiday person. Maybe Memorial Day/Labor Day? Time off with no social committments.
26. Is there anything that you collect?
- Yarn? I try not to collect things, my apartment is just too small.
27. What knitting magazine subscriptions do you have?
- Interweave Knits. I've been thinking of subscribing to Spin Off too.
28. Any books out there you are dying to get your hands on?
- Stahman's Shawls and Scarves. I've seen a couple shawls knit from this book and they are beautiful!
May 26, 2005
First Post on a new blog
I've decided to give blogger a try while I wait for my LJ subscribtion to run out. I'm faking my way through some really basic HTML right now and think I'm doing an ok job. If anything looks particularly bad, please tell me.
Here's my real update for the day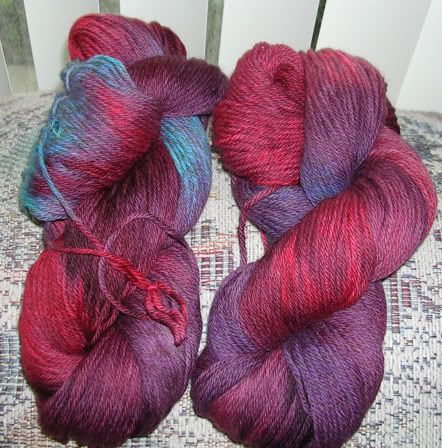 My Kool Aid experiment finally dried. The flash made the picture a little too bright, but the colors are pretty vibrant. I used Black Cherry, Grape, and Blue Raspberry. I'm pretty happy with how they turned out. The yarn is Cascade 220 Quatro in one of the natural shades. I'll be double stranding the yarn to make a felted bag. The double stranding should help mask my two very uneven dye lots.
On the knitting front I'm past the heel of the cashmere socks. I wound up not getting in as much knitting time as I expected yesterday because an old roommate was in town for the day. It was nice to see him and catch up a bit.